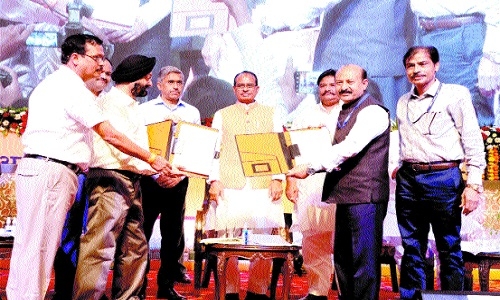 Staff Reporter
Chief Minister Shivraj Singh Chouhan has said that by 2027 the renewable energy potential of Madhya Pradesh will be 20,000 megawatt. The State Government is on the path of making Madhya Pradesh the Lungs of India along with the Heart of India. Madhya Pradesh will make every possible contribution towards fulfilling all the commitments of India and the Panchamrit Mantra given by Prime Minister Narendra Modi in the Glasgow Conference for Climate Change. Omkareshwar Floating Solar Project is amazing. There are currently 10 floating solar plants in the world. The Omkareshwar project will be the world's largest floating solar project to be built on water.
Chief Minister Chouhan was addressing the contract signing ceremony of 600 megawatt Omkareshwar Floating Solar Project and release of Energy Assessment Guide of Energy Literacy Campaign at Kushabhau Thakre international convention hall.
Forest Minister Dr Kunwar Vijay Shah and New and Renewable Energy and Environment Minister Hardeep Singh Dang virtually participated in the programme. CM Chouhan inaugurated the programme by performing Kanya-Poojan and lighting the lamp.
Chief Minister Chouhan said that a capacity of 278 megawatt would be established in the first phase of Omkareshwar project. This project is also amazing from this point of view, as there is no need of land for the implementation of the project. As a result no one will be displaced. It is scientifically proven that the power generation in a water based project is higher than that of a land based solar project. Due to the installation of solar panels on the surface of the water, the water will not evaporate as steam. With this, 60 to 70 percent of water will be saved. This will be equal to the drinking water of Bhopal residents for 124 days. Along with this, vegetation like algae will grow less in the water due to the installation of the plant and the water will remain potable.
MP is setting new dimensions in renewable energy: New and Renewable Energy and Environment Minister Hardeep Singh Dang addressed the programme virtually. He said that under the leadership of Chief Minister Chouhan, the state is setting new dimensions in renewable energy as per the dreams of Prime Minister Narendra Modi. Madhya Pradesh Urja Vikas Nigam Chairman Girraj Dandotia said that Omkareshwar project is a safe source of energy amidst the challenge of climate change. This will also save land, which can be used for setting up agriculture and other industries in the State. Contracts were signed and exchanged with NHDC Limited, AMP Energy and SJVN Limited in the presence of Chief Minister Chouhan. Collector Shajapur Dinesh Jain was honoured for his excellent work in solar energy. A short film on Energy Literacy Campaign was screened and mementoes were presented to the guests. Principal Secretary Energy Sanjay Dubey informed about the programme.