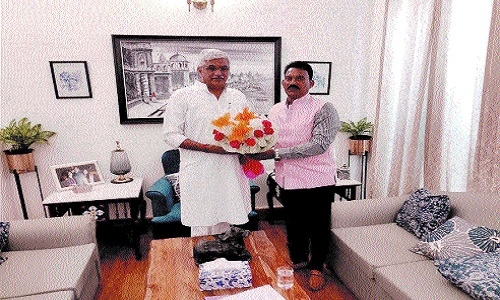 Staff Reporter
Minister of Water Resources, Fishermen Welfare and Fisheries Development Tulsiram Silawat, during his stay in Delhi, paid a courtesy visit to Union Minister for Jal Shakti, Gajendra Singh Shekhawat. In the meeting, detailed discussions were held on other irrigation projects including Ken-Betwa Project, Shrimant Madhavrao Scindia Major Irrigation Project. Union Minister Shekhawat assured to start the project work soon. Minister Silawat apprised the Union Minister about the works being done for water conservation in Madhya Pradesh.
Minister Silawat said that a prosperous, powerful, glorious and enriched India is being built under the leadership of Prime Minister Narendra Modi. Chief Minister Shivraj Singh Chouhan is working with the Central Government to take the state forward. He said that the Central and State Governments are taking steps on the path of winning Sabka Saath, Sabka Vikas and Sabka Vishwas.
Minister Silawat said that the Modi government is continuously moving towards fulfilling the dreams of former Prime Minister Atal Behari Vajpayee. Former Prime Minister Vajpayee had laid the foundation stone of Ken-Betwa link project in the year 2002. A budget of Rs 44,605 crore has been approved by the Union Government for this project. Apart from bringing greenery in Bundelkhand, this project will also provide employment to the people at the local level. The Government will complete it within the stipulated time frame. Its work will start soon. Minister Silawat informed that discussions were also held with Union Minister Shekhawat on Madhavrao Scindia Multipurpose Major Irrigation Project costing about Rs 6,600 crore. With this project, irrigation facility will be provided in about one lakh 50,000 hectare agricultural land along with redressal of drinking water problem of Gwalior, Shivpuri, Sheopur, Morena and Bhind districts. Along with water supply, electricity generation will also be done in the canals of Chambal. The DPR of the project has been prepared.