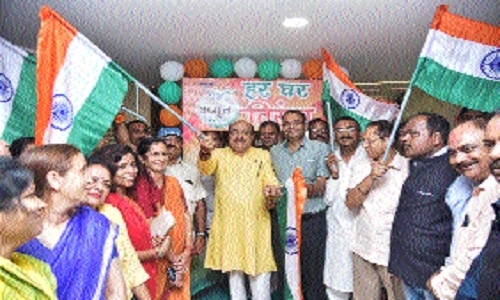 Staff Reporter
Senior Bharatiya Janata Party (BJP) leaders, on Thursday, inaugurated 'Suvidha Kendra' at party's divisional office at Ranital to ensure easy availability of national tricolor to the general public under 'Har Ghar Tiranga Abhiyan" to be conducted from August 13 to 15.
Speaking on the occasion BJP leaders said the party would provide national flag from the Kendra on nominal price to citizens so that they can hoist the triocolor with full respect at their dwellings. Prime Minister Narendra Modi, Union Home Minister Amit Shah and National President J P Nadda have urged the countrymen to hoist tricolor at their residences between August 13 and 15. Accordingly, residents would participate in 'Har Ghar Tiranga Abhiyan' BJP leaders said the campaign would be conducted on a large scale across the State. To ensure people do not face inconvenience, the Government has decided to sell the flag through Khadi Gramodhog, Post Office and other government offices, as well as Suvidha Kendra at BJP offices. MLA Ashok Rohani asked workers and people to be a part of the campaign and hoist flag at houses. Party leaders also purchased the national flag from Suvidha Kendra.
Among those present were Dr. Jitendra Jamdar, former Mayor Sadanand Godbole, Swati Godbole, Ramamurti Mishra, Rajesh Thakur, Roopa Rao, Pramod Chohtel, Uvej Ansari, Yogesh Lokhande, Pushpendra Singh, Hitesh Rohra, and others.