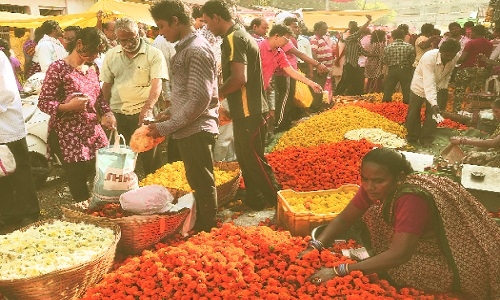 Business Bureau
ALTHOUGH there is good demand for flowers during this year's Ganesh Chaturti celebration, it is seen that the prices have remained steady during the past 10 days.
"With a continuous supply of flowers to the wholesale market the inflow has been able to fulfil the local demand and without inflating the prices. It can be noted that the flower prices have remined steady because of good supply this season. They have increased by only 10 per cent as compared to last years prices," said Jaywant Rannaware, President of Mahatma Fule Pushp Utpadak Sanstha while speaking to The Hitavada.
He further said that there is good demand for pooja flowers like Marigold (Zendu), Desi Rose and Tuberose (Nishigandha) which are mostly brought from local farms within a radius of 60 kilometers from Nagpur.
In the wholesale market, Marigold (Zendu) is being quoted at Rs 70 per kg to Rs 80 per kg, Chrysanthemum (Shewanti) at Rs 100 per kg to Rs 120 per kg, Desi Rose at Rs 150 per kg to Rs 200 per kg, Dutch Rose at Rs 100 per bundle to Rs 200 per bundle (20 pieces), Tuberose (Nishigandha) at Rs 400 per kg, Gerbera at Rs 40 to Rs 50 bundle (10 pieces), Carnation at Rs 200 per bundle to Rs 400 per bundle (20 pieces), Orchid at Rs 500 per bundle to Rs 600 per bundle (20 pieces), Jasmine at Rs 400 per kg to Rs 800 per kg, Lillium Oriental at Rs 800 per bundle to Rs 1,000 per bundle (10 pieces), Asiatic Lily at Rs 500 per bundle (10 pieces), and Anthurium at Rs 45 to Rs 50 per piece, depending on the quality, he said.
Rannaware expects the flower prices of certain varities like Tuberose and Desi Rose to shoot up during the Mahalaxmi festival due to short supply.