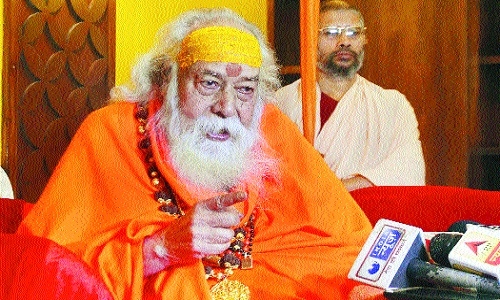 Staff Reporter
JABALPUR,
Dwarkapeeth Shankaracharya Swami Swaroopanand Saraswatiji passed away at the age of 99 in Paramhansi Ganga Ashram, Jhoteshwar in Narsinghpur district at 3.21 pm, on Sunday. As per information, the last rites of Shankaracharyaji will be performed on Monday.
Jagatguru Swaroopanandji Saraswati was born on September 2, 1924 in the village of Dighori near Jabalpur in Seoni district of Madhya Pradesh in a Brahmin family. He was the son of Dhanpati Upadhyay and Girija Devi. His parents named him Pothiram Upadhyay. At the age of nine, he left home and started religious pilgrimages. Born in a Brahmin family, Swaroopanand Saraswati learnt Vedas and scriptures from Swami Karpatri Maharaj after reaching Varanasi in Uttar Pradesh. He celebrated his 99th birthday on the day of Hariyali Teej.
Swami Swaroopanand Saraswatiji owned Dwarka Math and the Jyotir Math. He had also gone to jail in the freedom struggle, during which he was known as a revolutionary 'Sadhu'. He also contributed to the construction of the Ram temple in Ayodhya. PM Narendra Modi expressed deep sadness at his death and offered condolences to the seer's followers.Condolence messages are pouring in from across the country. Political leaders, religious gurus and people of sections of the society have expressed grief over the passing away of Shankaracharya Swaroopanand Saraswati Maharaj.