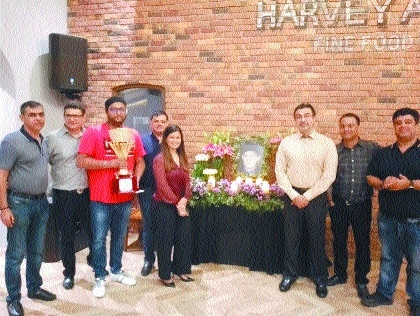 Winner Pawandeep Khokhar (with trophy), Yasin Merchant (3R) and sponsors of Late Aditya Diddee Memorial Snooker Tournament pose for a group picture.
Sports Reporter :
SNOOKER enthusiasts of Nagpur were in for double delight in the final of 5th edition of Aditya Diddee Memorial Open Snooker Tournament. Not only did they get a chance to witness fantastic display of cueing and potting by Pawandeep Khokhar but they also got a chance to meet and interact with their idol, one of the best trainers in country and three-time national champion, Arjuna Awardee Yasin Merchant. In the lop-sided best of nine final, Pawandeep defeated Mahesh Awachat in straight frames 5-0. In the first frame, Mahesh showed his skill and took a lead of 25 points but then onwards it was Pawandeep show all along. He played with such finesse that Merchant, who was witnessing the match, said that his cueing is perfect and young aspirants of Nagpur should watch Pawandeep play to learn the game of snooker better.
The frame-wise scores read 73-35, 58-53, 70-17, 88-36, 81-23. In the prize distribution ceremony, Merchant thanked Secretary of CP Club Naresh Jaisinghani and other office-bearers for conducting the tournament and giving a much deserved platform to snooker aspirants of Nagpur. He also praised the sponsors Bindesh Paul, Vishal Panchmatia, Amit Seth, Rajesh Mohta and Nitin Gopalani for keeping the memory of their friend alive in such a beautiful way. Merchant and Jaisinghani, along with the office-bearers and sponsors gave trophies and cash awards to — Highest Break (61 points): Mohd Saifullah; Most talented player: Nilesh Khobragade; Quarter-Finalists: M Saifullah, Nilesh Khobragade, Bhavesh Vasani, Jay Bhojwani, Shubham Bokade, Ashwin Palnitkar. Semi-finalists: M Saifullah, Khobragade, Bhojwani. Runner-Up: Awachat. Winner: Pawandeep. Sub-Secretary Billiards Room, Ujjwal Kothari proposed a vote of thanks.