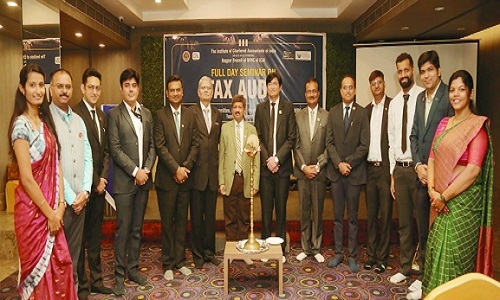 Business Bureau
The Nagpur Branch recently conducted a seminar on 'Tax Audit' under the aegis of Direct Tax Committee of ICAI, New Delhi wherein chief guest was CA Chandrashekhar V Chitale, Central Council Member and Chairman of the Committee on Direct Tax, ICAI New Delhi.
On the occasion, he said , "In-depth knowledge of the subject is must for professionals which will help them enjoy monopoly in the field." He also spoke about various initiatives taken by the council regarding the new education policy (CRET) which has been officially approved, changes in company law, arbitration and mediation, Indian Institute of Accountants (IIA), etc.
CA Vyomesh Pathak, covered provisions related to Tax Audit Report specifically Tax Accounting Standards and ICDS – relevance in tax audit, TDS compliances, precautions while filing ITR etc. CA Chintan Gandhi elaborated on Tax Audit for Non-Corporate Entities, Presumptive Taxation, Revision of Tax Audit reports, etc. There was a panel discussion after the deliberations wherein the participants got their queries resolved making the entire seminar very interactive and knowledge enhancing one.
At the outset, CA Jitendra Saglani, Chairperson, Nagpur Branch of WIRC of ICAI, said, "Member should take optimum benefit of the seminar." The inaugural session was coordinated by CA Sanjay M Agrawal, Vice Chairperson of the Branch and CA Akshay Gulhane, Secretary proposed formal vote of thanks.
CA Dinesh Rathi - Treasurer, CA. Ajay Vaswani, CA. Sanjay C Agrawal and CA Swaroopa Wazalwar, Managing Committee members coordinated various technical sessions. Prominently present on the occasion were CA Deepak Jethwani - WICASA Chairperson, CA Trupti Bhattad – MCM, CA Jayant Ranade, CA Sandeep Jotwani, CA Saket Bagadia, CA Pradeep Modani and many chartered accountants.