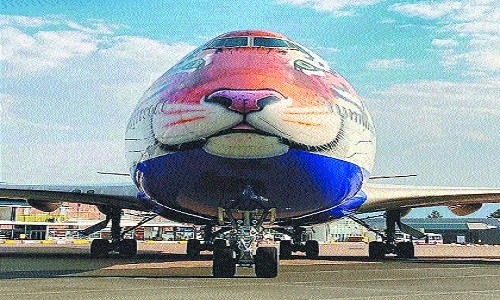 By Ankita Garg
BHOPAL,
Beautifully designed planes have been sent to Namibia to fly eight African cheetahs to be introduced at Madhya Pradesh's Kuno National Park, on Thursday. The eight cheetahs being translocated from African continent are fully radio collared for easy and convenient tracing. Cheetahs will be released in special enclosure prepared in Kuno by Prime Minister Narendra Modi on September 17. As cheetahs are being reintroduced in India after a gap of 75 years, plane sent for their translocation are articulated with special design of a tiger. Sources said that the thought behind sending plane designed as a tiger is that it is National Animal of India.
All arrangements have been done in Sheopur to welcome the Cheetah and Prime Minister Narendra Modi. SPG Commandos have already taken their place for safety purpose. 300 people, including Cheetah Mitra, school students and local politician, have got permission to attend the programme of Prime Minister Modi. It is being expected that around one lakh people will gather in Karahal to listen to address of the Prime Minister. There are around 75,000 tribal women to participate programme. Two enclosures have been made at 150 meter of distance from helipad in Kuno where Prime Minister will be releasing a female and a male cheetah. Transportation of heavy vehicle on Sheopur-Shivpuri highway will be closed from September 16 night.
Cheetahs will be quarantined for two months and after that they will be released in a special enclosure prepared in 5 km area. The enclosure boundary net is equipped with DC current for safety purpose. There are three checking points to enter the park.
DFO Prakash Verma said that Kuno Park has sufficient space for 25 cheetahs. He said that if all goes well and cheetahs introduce successfully in Kuno, then another lot of spotted cat would be introduced in Nauradehi Wildlife Sanctuary in Sagar, and Gandhi Sagar in Mandsaur in future. He said that research team has found all the three places suitable for cheetahs and there are some facts proving presence of cheetah at these places. Experts are also researching from Madhav National Park for introduction of cat species.
Kuno to be developed as cheetah breeding center: Kuno National Park will be developed as breeding center of cheetah. After releasing cheetah in wild, five enclosure will be vacant and these enclosure will further be used for breeding. Cheetahs will be relocated to different places from this center. Officials said that spotted cat will be released in wild in three to four months. Second lot of cheetahs will be brought from Kenya and a few other African countries. The cat will be introduced in India in several steps that would take around five years.
Modi to release cheetahs in MP's Kuno National Park: PMO:PRIME Minister Narendra Modi will release cheetahs brought from Namibia in Madhya Pradesh's Kuno National Park on Saturday as part of his efforts to revitalise and diversify the country's wildlife and habitat, his office said.
PM Modi will visit Madhya Pradesh on September 17 and at around 10:45 AM he will release cheetahs in Kuno National Park, a statement issued by the Prime Minister's Office (PMO) said.