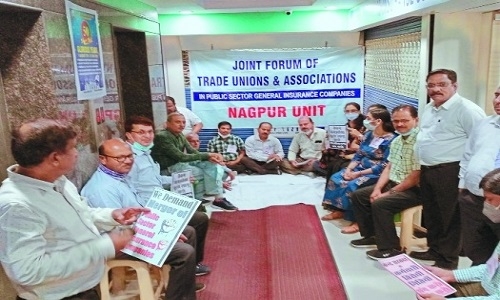 Business Bureau
The Public Sector General Insurance (PSGI) Employees on Thursday conducted demonstrated in lunch hour before all the Regional Offices of National Insurance Company Limited (NICL) across the country. The employees observed protest against the unilateral decision of NICL management to impose Key Performance Indicator (KPI) for all employees.
In a letter to regional heads, NICL Head Office instructed them to complete the roll mapping of employees in KPI portal by September 15. They have decided to roll out KPI from October 1. The General Insurance Employees All India Association, GIEAIA, has taken initiatives to hold nation-wide protest to oppose the unilateral decision of NICL, and appealed to all the trade unions / associations and employees in the PSGI companies to join the lunch hour demonstrations. In Nagpur, the demonstrations were held in front of Regional Office of National Insurance Co. Ltd., situated on Mount Road, Sadar.
A large number of employees and retired employees from nook and corner of the city participated in the protest demonstrations. They shouted slogans against the unilateral implementation of KPI, against National Insurance management and Department of Financial Services, DFS.
In addition, a meeting was organised after the demonstration. Com. Prashant Dixit, General Secretary, General Insurance Employees' Union, Western Zone (GIEU WZ) and Secretary GIEAIA in his address said that NICL management is in hurry to implement KPI, but, for the past 3 months management is not able to appoint permanent incharge in Nagpur and Vadodara Regional Office. Promotions were declared in the month of June 2022 but till date posting orders are not issued. He alleged that NICL management has became puppet of DFS.
Pravin Dongre of All India SC/ST Employees Welfare Association; Mangesh Karanjkar of Bharatiya Vima Karmachari Sena; Rajendra Saroj of National Insurance Company Officers Association; and Com. Pradeep Dharamthok President, GIEU WZ also expressed their views. Chandrakant Deshpande, Omkar Shende, Anil Sakharkar, Anil Nimje, Deepak Gotmare, Prakash Kanade, Sumit Tiwari, Kartik Parate, Chandu Sawarkar and others were also present.