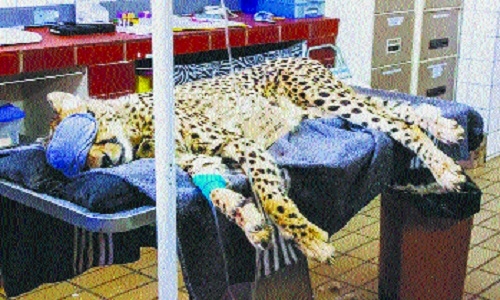 By Ankita Garg
BHOPAL,
Customised aeroplane with special livery took off from Namibia on Friday afternoon to bring five male and three female cheetahs to India.
These eight cheetahs will be travelling for 11 hours to reach India at 5:30 am on Saturday. They will be transported to Kuno National Park via Gwalior at 8:30 am for further release into enclosure by Prime Minister Narendra Modi. Spotted cat being transported from Namibia are equipped with high frequency satellite radio collar under Namibia Cheetah Conservation Fund and Project Mission. This radio collar will help forest officials of Namibia to trace the location from 8144 km of distance as well. Officials said that there is no need to do radio-collaring of cheetah in India.
According to CCF, the plane bringing cheetahs are modified to allow cages for safety purpose. Veterinary doctors are also there in plane to monitor the health of cat during the flight. All these spotted cats aged between 4 and 5 years will be released into small quarantine enclosure for 30 days.
Officials said that cheetahs will be released in wild with around 139 leopards, 100 bears and other herbivore. There were three leopards in the enclosure of cheetah out of which two were rescued and released to some other place. "The third leopard cub is still there in the enclosure and it would not harm the cheetah," said DFO Prakash Verma. He further said that CCTV cameras range of 5 km of area are installed around enclosures. Five watch towers are also there to keep an eye on spotted cat. Each tower is equipped with high resolution thermal power image camera that can scan the area at 360o Celsius. Through the cameras, a special team will closely watch the behaviour of cheetah and make study.