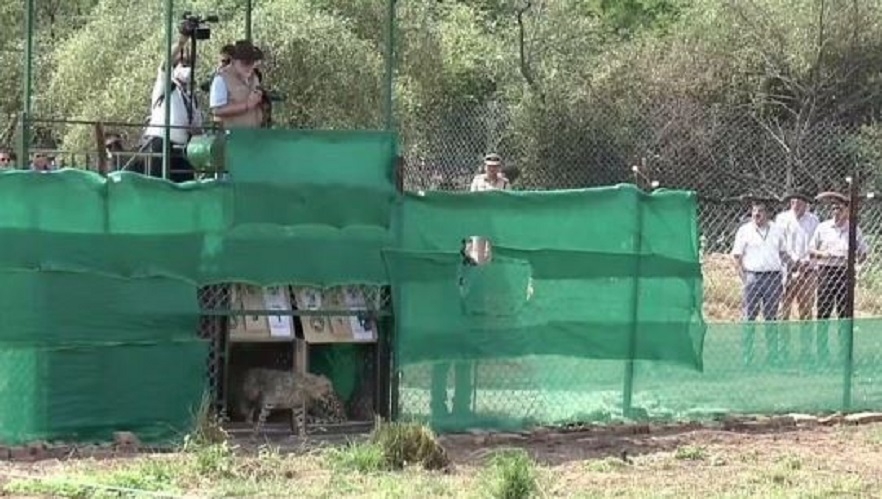 By Ankita Garg :
BHOPAL,
THE historical intercontinental translocation of African spotted cat was successfully done in India on Saturday. Eight cheetahs have been released into Kuno National Park of Madhya Pradesh by Prime Minister Narendra Modi. These cheetahs travelled empty stomach for 11 hours to get translocated from Namibia to India. India and Namibia had signed an MoU for this cheetah project on July 20 this year. There were 25 senior officials travelled along with the cheetahs. Tourists will be allowed to watch the cat in Sheopur's wild from January 2023. After arrival of eight cheetahs, including five females and three males, health check-up was done at the Gwalior airport. As all cats were fit and fine, they were transported from Gwalior to Sheopur with the helicopters.
Prime Minister Narendra Modi released the cheetahs in quarantine enclosure. With this translocation, Kuno National Park has become global centre of research. Major big cat species in India are lion, Royal Bengal Tiger, Leopard, Black Panther, Snow Leopard, Clouded Leopard, the Jungle Cat, the Golden Cat, Leopard, Marbled Cat, Desert Cat, The Lynx, The Caracal, Pallas Cat and Cheetah. Forest officials said that 'Machans' have been erected around the enclosures where guards and field officers have assigned duty. Forest guard, veterinary doctors and forest range officers would monitor the cheetahs for 24 hours. There is also patrolling camp at 8 to 10 sqkm of distance. Ex-Army jawans are also deployed to avoid any illegal activities and poaching cases in the area. In order to keep the spotted cat free from any kind of infection, local cattle have been vaccinated in Sheopur. Government of Namibia and wildlife experts would keep an eye on health of cheetahs.
Experts said that it would take around three months to Cheetah to get familiarised and comfortable in new environment. Various safety measures have been taken to keep the cheetahs safe in Kuno jungle. A Cheetah Mitra Club has been formed including 250 local villagers. A dog is also being trained for safety of cheetah. All these spotted cat are equipped with high frequency satellite radio collar under Namibia Cheetah Conservation Fund and Project Mission. This radio collar will help forest officials of Namibia to trace the location from 8144 km of distance as well. Officials said that there is no need to do radio collaring of cheetah in India. Officials said that cheetahs will be released in wild with around 139 leopards, 100 bears and other herbivore. There were three leopards in the enclosure of cheetah out of which two were rescued and released to some other place. India is the only country in world to have all the three prime wild big cat family. India hosts 16 big cat species including, cheetah, lion, tiger, and leopard. DFO Prakash Verma said that CCTV cameras range of 5 km of area are installed around enclosures. Five watch towers are also there to keep an eye on the spotted cat. Each tower is equipped with high resolution thermal power image camera that can scan the area at 360 degrees Celsius. Through the cameras, a special team will closely watch the behaviour of cheetah and make study. The enclosure prepared in 12 sqkm of area is divided in eight different parts. There is also small (10 hectare) of area in between all enclosures where spotted deer will be enclosed. After one month, cat will be released into 500 hectare of area. DFO Prakash Verma said that cheetah will be tagged with unique names after researching their behaviour. He said that wildlife has their own behaviour. He said that caretakers will also be assigned for the cats as per experience. It would take around three to five months to tag the names.
'Our future is safe in environment conservation' conserving nature and environment. He urged everyone to give time to the cheetahs to adapt to the environment here. Until then, we have to be patient. The Prime Minister also released the leopards in the presence of Madhya Pradesh Governor Mangubhai Patel, Chief Minister Shivraj Singh Chouhan, Union Agriculture and Farmers Welfare Minister Narendra Singh Tomar, Union Forest Minister Bhupendra Singh Yadav, Minister of civil, aviation and steel Jyotiraditya Scindia, Minister of State (Independent Charge) for Environment, Forest and Climate Change Ashwini Choubey, State Forest Minister Dr Kunwar Vijay Shah. The cheetahs were roaming in fencing area which was prepared for their security as soon as they were released by Prime Minister Modi. According to the international guidelines, after the quarantine period is over, they will be freed to roam the forest freely.
The Prime Minister urged the people of the country to wait patiently for a few months to see the cheetahs in the Kuno National Park. Cheetahs have come as our guests, unaware of the region. We have to give these cheetahs a few months to make Kuno National Park their home. Following international guidelines, full arrangements have been made to settle these cheetahs in Kuno National Park. In 1947, there were only 3 cheetahs left in India. They ceased to exist due to hunting and cheetahs were declared extinct in India in 1952. Since then, there had been no meaningful efforts to rehabilitate cheetahs again in the country. The Prime Minister said that the detailed Cheetah Action Plan prepared after research by scientists and subject experts from India, including Namibia, South Africa, for the rehabilitation of cheetahs on Indian soil was made result-oriented. Eco-system will revive: The Prime Minister said that conservation of nature and environment is also essential for development and prosperity. This also secures our future. When the world looks at nature and environment, it talks about sustainable development. For us, nature, environment, animals and birds are not only the basis of sustainability and security but also the basis of sensitivity and spirituality. Today fortunately we have one such moment before us.
He said that when the cheetahs sprint around in Kuno National Park again, the field eco-system will be revived, biodiversity will increase, eco-tourism will increase, new possibilities of development will be born and employment opportunities will increase for the people of the area. 250 new protected forest areas added in last 8 years: The Prime Minister said that today the India of the 21st Century is sending a message to the whole world that economy and ecology are not contradictory. Since 2014, about 250 new protected areas have been added in the country. The forest cover is continuously expanding. Along with protecting the environment, the country can also progress, India has shown this to the world. Today, we are among the fastest growing economies of the world. He said that the number of Asiatic lions has also increased here. Gujarat has emerged as a major area of Asiatic lions in the country. We have achieved the target of doubling the number of tigers in the country before the scheduled time. There has been an unprecedented increase in the number of one-horned rhinos in Assam today, whose existence was once threatened. The number of elephants has also increased to more than 30 thousand in the last years.
Today, 75 wetlands have been declared as Ramsar sites in the country, out of which 26 sites have been added in the last 4 years. The impact of these efforts of the country will be seen for centuries to come and will pave new paths of progress. Photography and interacting with Cheetah Mitras: The Prime Minister, Narendra Modi, captured the historic moments of the release of cheetahs with his camera, to be restored on Indian soil after a long gap of 70 years. The Prime Minister also interacted with cheetah friends deployed for the conservation of cheetahs. As many as 457 Cheetah Mitras from 10 nearby villages have been deployed for the safety of cheetahs.