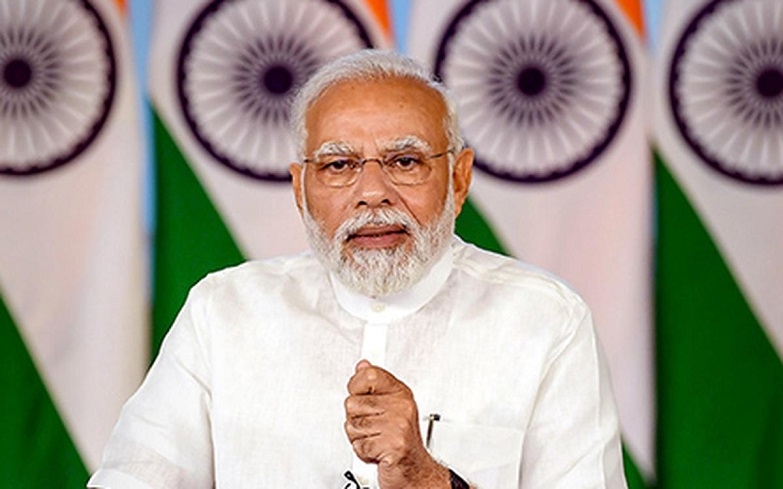 IT REQUIRES courage to tell Russian supremo Mr. Vladimir Putin that today's era is not of war, but of diplomacy, and Prime Minister Mr. Narendra Modi has it in abundance. But such courage does not come only from the lips; it comes from strength of character and confidence of performance. And exactly this has been the foundation of Mr. Modi's diplomacy and international multi-lateralism -- which was on full display at the Samarkand meet of the Shanghai Cooperation Organisation (SCO). The conversation -- in the form of statements mixing formality and informality -- between Mr. Narendra Modi and Mr. Vladimir Putin on the sidelines of the SCO summit has been made available in the public domain. The atmosphere clearly showed the good quality of exchange between two friends. And in those moments, even as he reminded Mr. Putin that their political journeys in high positions began almost together, Mr. Modi made it clear that war had to be shunned at all costs. In response, Mr. Putin also assured Mr. Modi that Russia would do everything possible to end the current war with Ukraine.
On the surface, the words in that exchange sounded simple, but also showed the courage of conviction of Mr. Narendra Modi. In the ongoing Russia-Ukraine conflict, India has continued to be friends with both parties to war unabashedly -- making it clear to the both that India would pursue its own interests openly. Mr. Modi thanked both, Russia and Ukraine, for cooperating with India in full measure to evacuate Indian students from the war-torn regions. And then came Mr. Modi's insistence on 'democracy, diplomacy and dialogue' as tools to resolving conflicts. The Prime Minister also talked of joint efforts to tackle the 'fuel, food and fertiliser' crisis that has been dogging the world. It must be recalled here that when the Russia-Ukraine war began, India came under world pressure to decry Russia and join the global sanctions against Moscow. In response, India towed a robust diplomatic line of pursuing its own interests and sticking to its age-old friendship with Russia. Initially, the world treated India with certain disdain, but later accepted the Indian line as its right to pursue its own interests. All this needs to be remembered at this stage because that understanding offers the set of reasons how Mr. Modi could pick up so much frankness to tell Mr. Putin without mincing words that today's era was not of war but of democracy, diplomacy and dialogue. For, even in those early days of the current conflict, India followed the same line of thought and action. And even though it spoke the truth, India did not have to sacrifice its interests at the Russian or the Ukrainian ends.
This is the beauty of India's mature diplomacy -- which the world saw and admired. At Samarkand, too, Mr. Narendra Modi followed a similar line of thoughts and action. One of the most important ideas Mr. Modi pushed at the summit was that of 'transit access' among the members of the Shanghai Cooperation Organisation. His effort, obviously, was to pursue the idea of true internationalism at least among the SCO member-nations. Possibly, that may have been the prompting point for Mr. Vladimir Putin to talk of visa-free travel between India and Russia. Going by the general rancour-free atmosphere at Samarkand, it can be said safely that this SCO summit could achieve the basic agreement about creating an international eco-system in which there is greater cooperation among the members. In strife-torn world, this is no mean an achievement.
At Samarkand, Mr. Narendra Modi played a centrally critical role -- in tune with the India's diplomatic line and stated purpose. Though the spread of SCO is relatively small by world standard, its gamut of issues is significant for a better, rules-based world order. It also showed that India will keep playing a bigger role in world affairs.