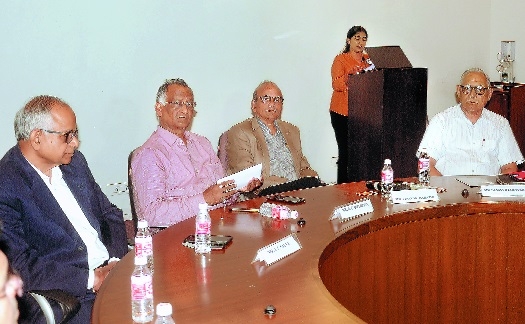 Business Bureau :
Highlighting the business opportunities in the Vidarbha region for young entrepreneurs, Senior Advisor in Solar Industries Ltd J F Salve on Saturday said that youths can venture into a wide range of sectors. "As the region is blessed with rich minerals and dense forests, there are huge opportunities for entrepreneurs in the region," he said while guiding the youths at a session organised here by the young entrepreneurs wing of Confederation of All India Traders (CAIT). Vinayak Marathe, former Senior Vice President, Reliance Industries Ltd, and Consultant to L&T Hydrocarbons; and Sanjay Deshmukh, Chemical Engineer, who worked with BARC, NOCIL, Bombay Dyeing and Reliance Industries Ltd; were the other speakers who spoke on 'Industrial Opportunities in Vidarbha' to encourage youths to take up entrepreneurship. Salve further said that the youths can take up businesses like making ethanol from agriculture waste and non-edible grass. "One can also venture into making artificial sand as its raw material is easily available in the region," he added. Salve also gave valuable tips on project report preparation and elaborated on various dos and don'ts while setting up new projects especially by the youths.
Vinayak Marathe said that one should have passion to do business. "Now the whole world is like a village and thus don't just confine yourself to Vidarbha region. By sitting in Vidarbha a person can do business at the global level," he said, advising the participants to think big. "The petrochemical sector is growing at a rapid pace and so are the opportunities in it," he said elaborating on the various associated businesses. Marathe also said that manufacturing requires huge amounts of money and it is risky too. "One the other hand, the service sector has good growth potential and many big companies are outsourcing most of its processes," he observed. He said food, education and health sectors are ever shining sectors and the young entrepreneur should try businesses connected to these sectors. Sanjay Deshmukh youths can become part of various big companies which need associates.
"If you cannot set up a big unit, you can at least join hands with the existing units and start your business. You can take up jobs like maintenance work, supply of various items, etc.," he said. However Deshmukh advised the participants to cautiously plan the projects to avoid failure. At the outset, National President of CAIT BC Bhartia said that the young entrepreneurs wing of CAIT is ready to provide all possible support to the young entrepreneurs. Vaibhav Kale, Zonal Manager Bank of Maharashtra and Pradeep Maheshwari, Strategist Natural Resources also expressed their views. Pragya Gupta conducted the proceeding of the season and also proposed a vote of thanks.