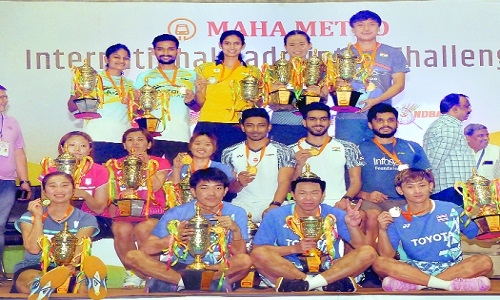 Sports Reporter
IN THE first ever international tournament — Maha Metro India Challenge Badminton Championship — Indian men ruled the roost by walking away with top awards as the event concluded at Divisional Sports Complex in Mankapur on Sunday evening.
Fourth seed Meiraba Luwang Maisnam got the better of second seeded countryman Mithun Manjunath in men's singles final in straight games 21-14, 21-16 in 42 minutes while the number one seeds in the men's doubles MR Arjun and Dhruv Kapila lived up to their billing holding on to their nerves before prevailing in three tough games over Thailand's pair of Chaloempon Charoenkitamorn and Nanthakarn Yordphaisong 21-17, 20-22, 21-18. Men's doubles final was longest match of the tournament at one hour and 18 minutes.
In the women's singles event that saw maximum number of upsets in the six-day tournament, Japan' qualifier Miho Kayama went all the way to bag her maiden international title. The 19-year-old upcoming player was just too good for 13th seed Ruthvika Shivani Gadde winning 21-11, 21-11 in opening match of the final day. The one-sided match lasted just 28 minutes.
Miho had one more chance to pick second title of the day but she and Kaho Osawa went down to compatriots and seventh seeds Chisato Hoshi and Miyu Takahashi 18-21, 21-19, 16-21. The women's doubles encounter was played for five minutes more than an hour.
In the mixed doubles final, the Indian combination of Gouse Shaik and Maneesha K gave their beast against Thai pair of Ruttanapak Oupthong and Jhenicha Sudjaipraparat but went down in two close games 21-18, 21-9 in 34
minutes. Everybody was expecting a close fight in the men's singles final as both players train at Prakash Padukone Badminton Academy in Bengaluru and know each other well. But number two seed Manjunath, who had beaten Kidambi Srikanth a couple of months ago in an international event and fourth seed Maisnam, who holds the record of being the only male player from India to win an international title on debut, made it look like just an extended training session.
The match had all the skill ingredients as the players smashed anything that was asked for, engaged each other in long rallies from the baseline, employed the drop shots, exchanged some good returns at the net and even threw themselves on the court to retrieve the passing shuttle, but it lacked drama and intensity that one expects in an international final.
With Manjunath committing more unforced errors and Maisnam selecting the right strokes, the latter took the first game with ease at 21-14. Manjunath started the second same with bang reeling in five straight points only to see the youngster bounce back to square it 5-5. Maisnam looked more composed of the two and finished the second game with a powerful smash adding one more international title to his kitty.
On his way to the crown, Maisnam got rid of top seed in semis and second seed in final (both in straight games) but he wants to focus on game and not the opponents.
"I want to be ready to overcome whatever challenges that may occur during the match. I just want to face them. It is not about playing first or the second seed, it is about game," said the champion after the match.
Chief guest of the prize distribution ceremony Union Minister Nitin Gadkari gave away the prizes. Arun Lakhani, President, Maharashtra Badminton Association and Treasurer Badminton Association of India made introductory remarks. District Collector Dr Vipin Itankar, Nagpur District Badminton Association President Kundatai Vijaykar, Secretary Mangesh Kashikar, Deputy Director Sports Shekhar Patil and a host of dignitaries shared the dais.