Protests at Chandigarh varsity after rumour that objectionable videos of women leaked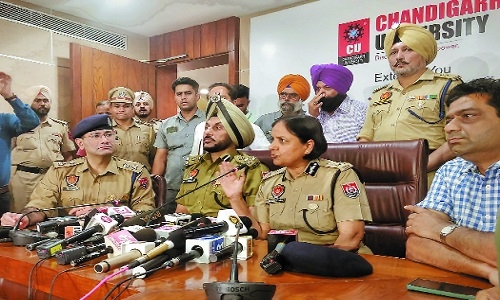 CHANDIGARH,
PROTESTS erupted on the campus of a private university in Punjab's Mohali over "rumours" that objectionable videos of several women students were recorded by a hosteller, following which Chief Minister Bhagwant Mann on Sunday ordered a probe.
After a preliminary investigation, police arrested a woman student and dispatched a team to apprehend a youth in Himachal Pradesh. Punjab's Additional Director General of Police, Gurpreet Deo, who reached the Chandigarh University campus along with other senior officials to take stock of the situation after the overnight protests, told reporters that the woman student appeared to have shared a video of herself with the youth and no objectionable video of any other student was found. University authorities also rejected reports that claimed videos of several women students in the varsity hostel were made and shared on social media and several students had attempted suicide after the episode.
Mohali Senior Superintendent of Police Vivek Sheel Soni told reporters that the protests erupted in the university past midnight after a "rumour" that videos of several women students had been made and leaked. The arrested student's mobile phone has been taken seized for forensic analysis, he said, adding no suicide attempt by any student or death has occurred. An FIR under IPC section 354-C (voyeurism) and the IT Act has been registered in the matter and further probe is on, officials said.
Chief Minister Mann ordered the probe into the incident, saying strict action will be taken against those found guilty.
"Sad to hear about the unfortunate incident at Chandigarh University...our daughters are our honour...a high-level inquiry has been ordered into the incident...severe action will be taken against whoever is found guilty," said Mann in a tweet in Punjabi. "I am in touch with the administration," said Mann while appealing to people not to believe rumours. The incident sparked a flurry of reactions from political parties and the Central and State women's rights bodies too stepped in. Delhi Chief Minister and Aam Aadmi Party national convener Arvind Kejriwal said those involved in the incident will get the "harshest punishment".
"Victim girls should keep courage. We are all with you. All should act with patience," he said in a tweet in Hindi.
Punjab State Women Commission Chairperson Manisha Gulati visited the university campus. "I understand parents' concern and I want to assure them that the incident is being investigated by the police," she said.