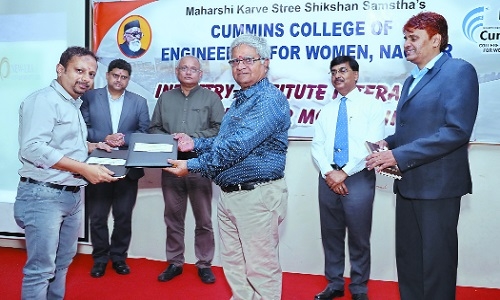 Business Bureau
MKSS Cummins College of Engineering for Women, Nagpur made history by signing 34 memorandums of understandings with various industries in an effort to strengthen academic and industry relationships through joint programmes.
Udayan Shrouti, Secretary, Laghu Udyog Bharti, Nagpur Vibhag and Rahul Dixit, Convenor, CII Maharashtra MSME Panel were the guests of honour. A galaxy of director, CEO's, partners and delegates from software, IT, manufacturing, electronics and service industries participated in an industry institute interactive meet held at the college campus and expressed their views.
Rahul Dixit stated that institutes and industries should be the supporters of each others growth, welfare of society and should focus on issues and activities that will help the state and nation achieve the overall goal of inclusive growth.
Udayan Shrouti focused on industry needs and the curriculum changes required by universities and colleges to meet them. He urged students to reconnect to India rather than emigrate and begin contributing to the nation with their skills and expertise.
Er. Hemant Ambaselkar member of MKSSS CCOEW Local Management Committee spoke about the role of SME and MSME in academics and empowerment of students.
Dr Bharatbhushan Joshi, Principal of CCOEW, discussed significance of industry institute collaborations in today's scenario. Er. Nitin Ronghe and Er. Hemant Didee expressed their positive vibes of the campus. Dr Jitesh Shinde, Dean R&D and Dr Mahesh R Shukla, Dean Metamorphosis introduced the guests. Prof Aditya Kawadaskar proposed the vote of thanks. Prof Bhattacharya, Prof Sneha Uttarwar, Mithun Ragenwar and a large number of students worked hard to make the event successful.