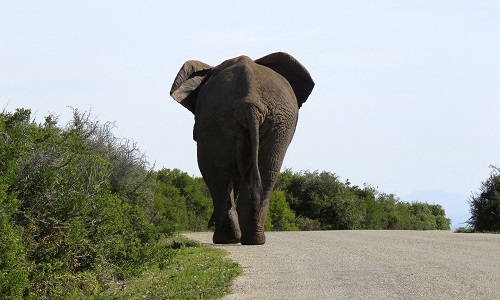 Our Correspondent
SEONI,
An elephant crushed his own caretaker in Seoni district due to which the man died while being taken to the hospital. It was informed that the 'Mahout' and a caretaker were roaming about in the city with an elephant. During this time, a dumper driver wanted to feed a banana to the elephant. But his caretaker took the banana due to which the elephant got so angry that he wrapped the man with a trunk and threw him on the ground and stamped him with the feet.
People reported the incident to Bundol police. Station In –charge, Dileep Pancheshwar reached the spot and Bharat Vasudev (56), son of Rajaram Vasudev, resident of Damoh was sent to the District Hospital for treatment, but was declared dead on arrival.
After the post -mortem, the body would be handed over to the family members.
Bundol Police Station In –charge, Dilip Pancheshwar informed that about 13 people in the elephant team took the elephant with them from Seoni. Before reaching Bundol, they reached a restaurant near Rahiwara. There four to five people were present with the elephant. Some people were asking for 'Dakshina' from passers-by.
Meanwhile, a dumper was going from Bundol towards Seoni direction. Bananas were filled in the dumper. The dumper driver stopped the dumper and tried to feed the banana from a distance. The dumper driver started giving banana to the elephant. Meanwhile, another person standing below the elephant took the banana in his hand.
After being denied the banana, he got angry and wrapped Bharat in a trunk and slammed him in the ground.
As soon as this incident happened, there was a stir. People nearby pulled Bharat away from the elephant. As soon as Bundol Police Station came to know about the incident, he sent the injured person to the District Hospital for treatment. Bharat died on the way. The deceased's son Anil Vasudev from Damoh has been called and case was established for further action.