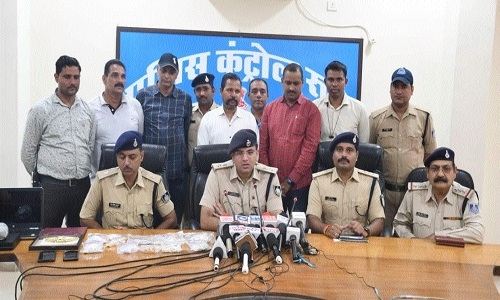 Staff Reporter
Garha police arrested a thief involved in seven theft incidents and retrieved stolen gold and commodities amounting to Rs 11 lakh from him. The arrested has been identified as Khemchand Maravi alias Sanjay (35), son of Kandhilal Maravi, native of Majhgavan, Shahpura in Dindori district and currently a resident of Kalimath in Madan Mahal.
Superintendent of Police, Siddharth Bahuguna disclosed this while addressing a press conference, on Wednesday. He informed that investigating a theft case Garha police received information about a suspected man who was sighted in Bajrang Nagar Colony. Acting promptly on the information, police started a search and trapped the suspected man Khemchand alias Sanjay Maravi. In the interrogation, the accused broke down and confessed theft incidents in Garha, Gorakhpur, Madan Mahal and Lordganj areas.
The accused informed that he is working as auto-rickshaw driver and kept eye on houses. He disclosed theft incidents. On his identification, police retrieved 161 grams gold jewellery include two gold necklace, four gold chains, a pair of gold broad bangles, four gold bangles, six pairs of gold studs, two pairs, two pairs of gold earrings, 14 gold rings, one gold coin, two Mangalsutras, a gold locket, 1.5 kg silver jewellery, a laptop, 3 DVR, 1 CPU, two mobile handsets and other stuff amounting to Rs 11 lakh.
The thief was arrested with active working of police team led by SHO, Garha, Rakesh Tiwari comprised of SI, Brijendra Tiwari, SI, Madan Singh Maravi, SI, Prashant Shukla, Constables, Sachin Mehra, Ashwini Dwivedi, Santosh Jat, Rajeshwar Mishra, SIddhant Pandey, Police Line's ASI, Ramakant Mishra, Vijay Shukla, Rajesh Shukla, Head Constables, Gyanendra Pathak and Ajay Yadav.