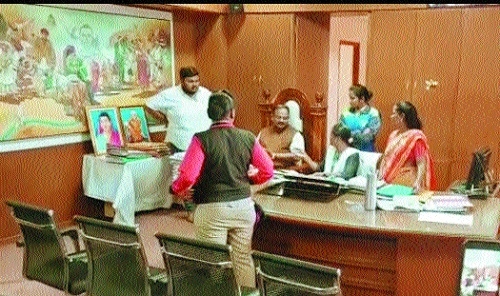 Yavatmal Correspondent
High drama was witnessed at the Municipal Council office on Wednesday afternoon over handing over of the charge of Chief Officer's post. Allegedly made to wait outside the CO's cabin for too long, the new CO Dadarao Dolharkar barged into the cabin with his own chair. The outgoing CO Madhuri Madavi later lodged a police complaint against Dolharkar.
As per details, the news was doing rounds for last few days regarding transfer of Madavi. But some social organisations were staging demonstration in the city opposing her transfer out of Yavatmal. Amid all this, orders regarding Madavi's transfer to Assistant Commissionerate in Amravati and appointment of Karanja Municipal Council Chief Officer Dadarao Dolharkar in her place were issued on Tuesday night.
Taking note of the opposition to Madavi's transfer, police bandobast was maintained outside her cabin to avoid any untoward incident.
Meanwhile, Dolharkar and around 20 of his supporters reached the MC office premises on Wednesday afternoon to take charge. But Madavi allegedly made him wait outside for long irked by which Dolharkar and his supporters allegedly barged into the cabin carrying a big chair. The chair was placed right next to Madavi's and Dolharkar sat on it and announced that he had taken charge of the office.
After this a fuming Madavi walked out of the cabin without officially handing over the charge.
She later lodged a complaint with Yavatmal City Police accusing Dolharkar of creating hurdles in official work and humiliating her. She demanded action against him and his supporters.