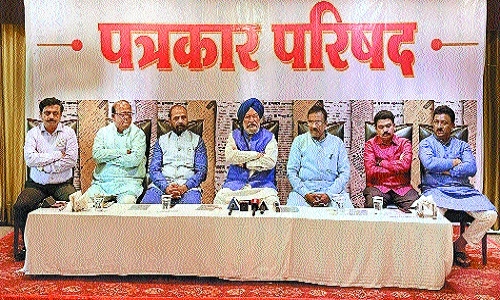 Chandrapur Bureau
Union Minister for Petroleum Hardeep Singh Puri, on Friday, denied categorically that he had ever talked about setting up of an oil refinery specifically in Vidarbha.
Responding to questions from scribes seeking confirmation of information being circulated about such a plant being located in Chandrapur or Vidarbha, the Union Minister agreed that the Central Government may be willing to set up in Maharashtra a 60 million metric tonne oil refinery which could be split into three plants of 20 million metric tonne capacity each -- to be located at three different places. Yet, he had never specified where the plants could be located, Hardeep Singh Puri clarified.
Previously, the Government of Maharashtra had not allocated appropriate land for the refinery project. However, with the change of hands at the helm, proper cooperation from the State Government could be expected, the Union Minister added.
It may be recalled that one organisational delegation had called on Hardeep Singh Puri at his Chandrapur camp and later claimed that it had succeeded in convincing the Government about splitting the refinery project into three and that one of the three plants would be set up in Vidarbha.
The Minister Puri further stated that there is a demand of 1 crore houses and so far the Government has provided 65 lakh homes to the beneficiaries. The Government has also sanctioned a total of 1.22 crore houses and it will be completed in a year. Sudhir Mungantiwar, Minister of Forests, Cultural Affairs and Fishery, Hansraj Ahir, former Union Minister of State for Home Affairs, Deorao Bhongle, District President of BJP, Dr Mangesh Gulwade, City Chief of BJP and others were present on the occasion.
Later, Minister Puri also visited Chandrapur Sainik School, the impressive campus and state-of-the-art infrastructure sprawled across 120 acres located on Chandrapur-Ballarpur road on Friday.