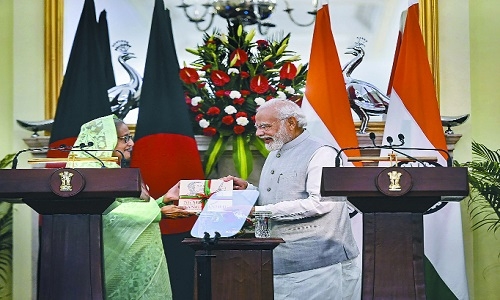 NEW DELHI,
PRIME Minister Narendra Modi on Tuesday said India and Bangladesh should jointly face terrorist and fundamentalist forces that threaten to attack mutual trust between the two countries. Modi made these remarks after bilateral talks with visiting Bangladesh Prime Minister Sheikh Hasina, who made a strong pitch for early conclusion of the Teesta water sharing agreement. "Today we also stressed on co-operation against terrorism and fundamentalism. To keep the spirit of 1971 alive, it is also very necessary that we face such forces together, who want to attack our mutual trust," Modi said.
India and Bangladesh signed seven agreements after the talks between Modi and Hasina, including one on sharing of waters of Kushiyara river which is expected to benefit the regions of southern Assam and Bangladesh's Sylhet region.
Modi noted that 54 rivers pass through the borders of India and Bangladesh and are linked to the livelihoods of the people of both the countries for centuries.
"I recall that the two countries have resolved many issues in the spirit of friendship and co-operation. We hope that all outstanding issues, including Teesta water sharing agreement, will be concluded as an early date," Hasina said at a joint media interaction at the Hyderabad House here. Friendship can solve any problem, says Sheikh Hasina as she begins India visit: WITH friendship one can solve any problem, Bangladesh Prime Minister Sheikh Hasina on Tuesday said as she embarked on a four-day State visit to India. Prime Minister Narendra Modi welcomed Hasina at the Rashtrapati Bhawan forecourt here where she was accorded a tri-services guard of honour.
Interacting with reporters at the Rashtrapati Bhawan, Hasina said her talks with Modi would focus on improving the condition of the people in their respective countries, poverty alleviation and economic development.
"Our main aim is to develop the economy and fulfill the basic needs of our people. With friendship you can solve any problem. So we always do that," Hasina said.
She also offered floral tributes at Rajghat, the memorial to Mahatma Gandhi Hasina arrived in Delhi on Monday afternoon and is scheduled to hold bilateral talks with Modi later Tuesday. During her stay, Hasina will also call on President Draupadi Murmu and Vice President Jagdeep Dhankhar. Hasina also visited Nizamuddin Aulia Dargah in the national capital on Monday and is scheduled to travel to Ajmersharif on Thursday.