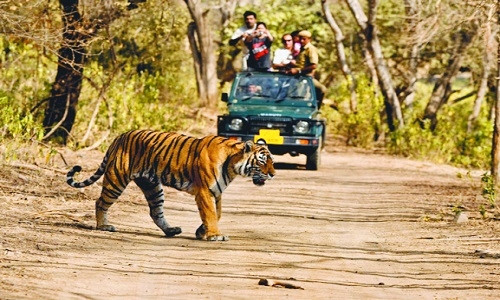 Business Bureau
Highlighting the potential to attract more tourists in tiger reserves of Vidarbha, Kishor Mishrikotkar, Divisional Forest Officer, Maharashtra Ecotourism Development Board (MEDB) said, "To attract more tourists additional safari's will be started in Chandrapur Circle apart from Tadoba Tiger Reserve. MEDB will be adding 8-10 safari's this year with an investment of Rs 10 crore". He was speaking in an exclusive interview with The Hitavada.
"The tiger reserves in Vidarbha have vast scope to attract more tourists. The existing infrastructure in tiger reserves and sanctuaries in Vidarbha can accommodate approximately 10 lakh tourists in a year. Currently, about 5 lakh tourists are visiting the tiger reserves during a year in Vidarbha", he said.
Misrikotkar said, "There are more tigers in Chandrapur district about 200 tigers compared to Tadoba with 85 tigers. The only difference is that the possibilities of tiger sightings are more than other reserves".
Apart from Tadoba, there are plenty of different sites and opportunities for tourists to visit in Vidarbha. Efforts are on to attract tourists to Melghat Tiger Reserve, Pench and Nawegoan Nagzira Tiger Reserve so that the existing infrastructure gets utilised.
There are additional activities that tourists can indulge in like bird watching, boating, cycling, nature trail, river rafting, sky zipping, wildlife sighting, archaeological expeditions, trekking, heritage walk, tribal village tour and other activities which are available at the various reserves.
"Tiger is not the only attraction in the forest. There are plenty of sites and opportunities for tourists to visit other than reserves in Vidarbha. For this tourism needs to go beyond tiger centric ecotourism. The existing infrastructure in forest reserves of Vidarbha can accommodate approximately 10 lakh tourists but this infrastructure is currently under-utilised," he said.
The Board has identified additional tourist sites with high potential in Vidarbha to be developed over the next 10 years are Visapur Botanical Park at Chandrapur, Lonar at Buldhana, Wardham Fossil Park, Gadchiroli, Morshi Bio Park, Bamboo Garden, Amravati, Ravanwadi, Bhandara, Hazara Fall and Kachargad Caves, Gondia.
The development of all these sites will be carried out under the guidance of Maheep Gupta, Managing Director, Maharashtra, MEDB.