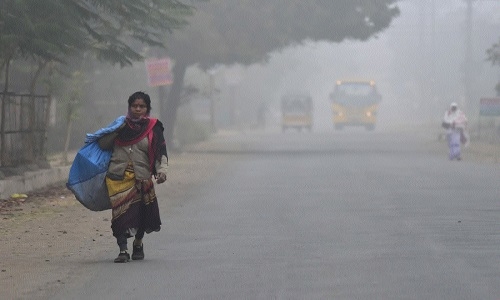 Staff Reporter
Madhya Pradesh is in grip of severe cold conditions as most of districts are shivering below 5 degree. Weather Department said that after gap of 21 years, any city of the State has recorded temperature in minus.
All districts of the State have night temperature below ten degree Celsius. Naugaon remained the coldest city in the country with -1 degree Celsius and Rajasthan's Churu remained second coldest city with 0.5 degree Celsius. On Monday too, severe cold conditions were in maximum cities. North part of State witnessed dense fog. Though it was relief with bright sun during day hours but people were shivering with cold during morning and evening hours. For the first time in January, maximum temperature crossed 25 degree.
Weather Department said that there will be changes in weather of State in next three days. It was fog in Gwalior- Chambal region on Monday. People has no respite from biting cold. Most of areas in state recorded severe cold on Monday as well. Bundelkhand and Baghelkhand areas were in frozen condition.
Officials of Meteorology Department said that there would be some relief from January 10. From January 10 to 12 there would be no fog or severe cold conditions. The department has not released any alert till January 12. From January 10 there will be rainfall in Uttar Pradesh and Rajasthan state due to which day and night temperature in MP will increase. After that temperature will again decline. During January 10 to 13, western disturbance will take place that would bring drizzling in few areas.
Day temperature has increased in many parts of the State. Maximum districts recorded day temperature above 25 degree while Khargone recorded day temperature above 30 degree. Chatarpur, Rewa, maria, Jabalpur, Balaghat, Datia, Betul remained affected with severe cold on Monday. On Tuesday maximum temperature will be around 25 degree and minimum temperature will be around 8 degree Celsius.