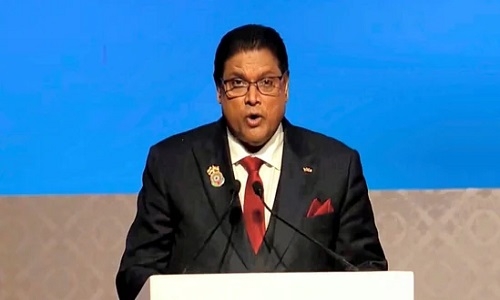 By Bhavana 'Aparajita'
Shukla
Suriname President Chandrikapersad Santokhi drew visitors' attention as he greeted Prime Minister Narendra Modi in Hindi saying 'Aapko hridaya se mera namaskar'.
Santokhi began his speech in Hindi, saying the Sanskrit proverb about mothers, "Janani Janmabhoomischa Swargadapi Gariyasi (Mother and motherland are more than heaven)" and was overwhelmed with the hospitality at Indore.
"There could be a Hindi language training institution in the Caribbean region, as well as an academy to support diaspora youth in showcasing their talent in Yoga, Ayurveda, and spirituality. Different countries should focus on learning Indian traditions and culture," said Chandrikapersad Santokhi, President, Suriname on Monday while addressing the event. "Today, it is my great privilege to set foot on the soil of mesmerising Indore and beautiful MP, known as the cleanest city in India and evolving as one of the smart cities, to speak as your special guest of honour at this Pravasi Diwas," he added.
"A diaspora fund should be created for diaspora projects and programs in the region. Funding of training centres, schools in different places of our countries should be initiated to learn the Hindi language, also learning about religions, culture and our tradition," he added. He also expressed condolences on the demise of Modi's mother.