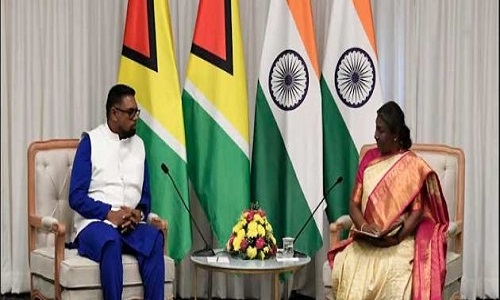 Staff Reporter
President Draupadi Murmu had a meeting with the President of the Co-operative Republic of Guyana, Dr Mohammed Irfan Ali, at the 17th Pravasi Bhartiya Divas Convention in Indore today. President Murmu welcomed Dr Ali, the President of Guyana and said that she was happy to have him as the chief guest of the 17th Pravasi Bhartiya Divas Convention.
President Murmu said that India and Guyana, despite being geographically distant, share the same characteristics of a colonial past and a multicultural society. Most importantly, the large Indian diaspora serves as a permanent link of friendship between Guyana and India.
President Murmu said that bilateral relations between the two countries have strengthened in recent years. Trade between India and Guyana has also increased. Pointing to the recent major discoveries of oil and gas in Guyana, she said that there is immense potential for co-operation and enhanced relations between Guyana and India in this area. She added that India has the requisite experience and expertise across the entire oil and gas value chain.
President Murmu said that India is keen to further strengthen its developmental partnership with Guyana. India would also be happy to deepen their capacity building and co-operation in training. The President appreciated the Government of Guyana for its consistent support to India's candidature in various international bodies and India's priorities on global issues.