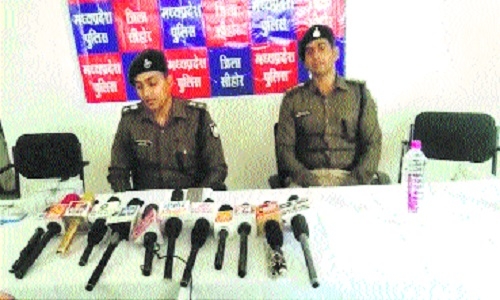 Sehore Correspondent
Sehore police have got success in cracking a murder mystery where a dead woman's sister's grandson has been arrested for the murder. The accused with his two friends planned the murder for gold ornaments. Police have confiscated the ornaments stolen by the accused and have also seized a motorbike used for the incident.
According to the information, on the intervening night of January 3 and 4, complainant Ramdwar Yaduvanshi, lodged a complaint about his missing mother Baliya Bai Hazarilal Yaduvanshi (75), a resident of Digwad. Police while scanning the CCTV footage found Baliya Bai being taken along by three persons.
Under the leadership of Superintendent of Police Sehore, Mayank Awasthi, and Additional Superintendent of Police Gitesh Garg and Sub-Divisional Officer of Police Shashank Singh Gurjar, police teams of three police stations were formed to search for the elderly woman.
It is said that the victim Baliya Bai had come to attend a function where the accused saw her gold jewelry. In the greed of Baliya Bai's ornaments, the accused Dharmendra along with his fellow villagers Dilip Yaduvanshi (20), Nilesh Yaduvanshi (27) entered the house of Baliya Bai in the night of January 3 and 4 and killed her. The accused during interrogation accepted killing the woman and stealing jewelry. They also admitted that they threw the dead body tied to a hanger in the middle of the Narmada River at Babri Ghat so that the dead body could never come out.