Army's job is to fight battles, yours to make defence equipment: Air Vice Marshal Ranjan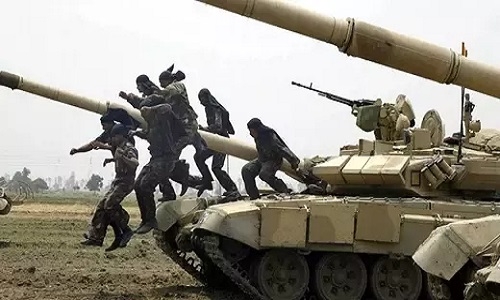 Staff Reporter
The work of the Army is to fight battles, to protect the country. An yours is make necessary equipment for the Army, said Air Vice Marshal Rajeev Ranjan in the session 'Aerospace and Defence' at the Global Investors Summit in Indore. Ranjan said that there is no dearth of money for the work. About 68 per cent of the Defence budget is for local manufacturing. The window is open for private investors to manufacture equipment related to the defence sector. You should come forward in this field by taking advantage of the policies of the Government and end the dependence on import of equipment. Ranjan said that at present the defence equipment being manufactured in India are no less than any other country. He said that there are favourable conditions for investors in Madhya Pradesh. Sufficient raw material and skilled work force is available here. Joint President and Head Land Systems Defence and Aerospace of Adani Group Ashok Wadhawan said that we had first started manufacturing defence equipment from Malanpur in Madhya Pradesh. We make pistols and machine guns and other equipment here. Soon we will be expanding it. He said that MSMEs can co-operate in our work. Wadhawan said that a cell that supports investors should be made in Madhya Pradesh. The licensing process should be simplified.
Programme Director Retired Captain Roy Joseph said that we are continuously working with the start-ups. We are funding them too. He said that less number of young entrepreneurs and start-ups are applying from Madhya Pradesh. The youth of Madhya Pradesh should also come forward in this. Joseph said that defence PSUs can be established in Madhya Pradesh. Retired Air Marshal Shashikar Chowdhary said that the ecosystem for manufacturing of armaments is ready in Madhya Pradesh. Land, skilled manpower, electricity and water are in surplus in the State. Many incentives are being given by the State Government.
Investors should take advantage of them. President of MRO Association of India Bharat Malkani said that we have to compete with China and not with Gujarat and Maharashtra. An ecosystem that generates maximum investment has to be created in the State. Now is the right time, otherwise we will lag behind. Licensing has to be simplified like in Singapore.
Indian Rare Earth Limited office will open in Bhopal: Chairman and MD Indian Rare Earth Limited Dipendra Singh said that soon the office of Rare Earth Limited will be opened in Bhopal. With this, the investors of Madhya Pradesh will be able to get necessary advice and facilities on time for investing in the field of mines and minerals. He also underlined the importance of metals like titanium, lithium and uranium. Founder and CEO TechEagle Innovations Vikram Singh said that we are in the business of manufacturing drones. India can develop as world drone hub. He said that the government should make a policy and also ensure its better implementation, this will help start-ups. Commissioner, Civil Aviation, Chandramouli Shukla told that today we have signed three MoUs in this area. The State Government has kept an equity of Rs 100 crore for the incubator. He said that the opportunity has to be identified for a Atmanirbhar Madhya Pradesh in an Atmanirbhar Bharat. Former Joint Secretary of Civil Aviation Amber Dubey conducted the session.