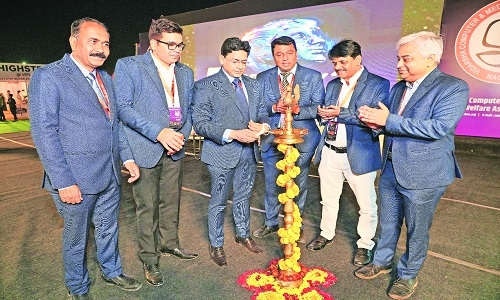 Business Bureau
The 29th edition of Central India's largest IT event Comp-Ex' 2023 was opened for the visitors here on Thursday. Dr Brijesh Dixit, Managing Director, Maharashtra Metro Rail Corporation, inaugurated the four-day event at Reshimbagh Ground in the city in presence of Vinay Dharmadhikari, President, VCMDWA; Dinesh Naidu, Vice President; Lalit Gandhi, Secretary; Jayant Patel, Treasurer; Ranjit Umathe, Joint Secretary; Executive Members Sanjay Chaurasia, Rohit Jaiswal and Shahzad Akhtar besides other VCMDWA members and thronging visitors.
In his address, Dr Dixit said that the work which used to take ten years to finish now gets rapidly over in just one year due to the technological advancements. Dr Dixit also thanked the people for Nagpur for the support and co-operation extended to the Maharashtra Metro Rail Corporation in completing the project on time.
Vinay Dharmadhikari, President, VCMDWA in his address lauded the team efforts and the participants response to Comp-Ex over its long 32 years of hosting the IT extravaganza. The expo promises showcasing newer technology, new hardware and new software that would impact human lives in terms of needs, benefits, safety and entertainment.
Over the four days of Comp-Ex' 2023 from January 12 to 15, the event at the sprawling Reshimbagh Grounds promises to be an enriching experience for the avid visitors. With more than 75 participants, there are more than 200 brands and thousands of products on display and for know-how interaction from the IT industry giants like HP, Canon, Epson, Asus, Brother, Dell, Digisol, D-Link and Lenovo just to name a few. This event from VCMDWA is being backed in its efforts by Government of Maharashtra and Maharashtra Metro Rail Corporation. Similarly, The Hitavada as the media partner, Click IT as the IT Media partner, Finding Pi as the Social Media partner, UCN as the Cable TV partner, My FM 94.3 as Radio partner and Signpost as the Outdoor media partner are the few promotion support partners.
For details contact office of VCMDWA at 603, Suryakiran Commercial Complex, Plot No. 1, Central Bazaar Road, Bajaj Nagar, Nagpur (Phone number: 0712-2243727, email:
[email protected]
).