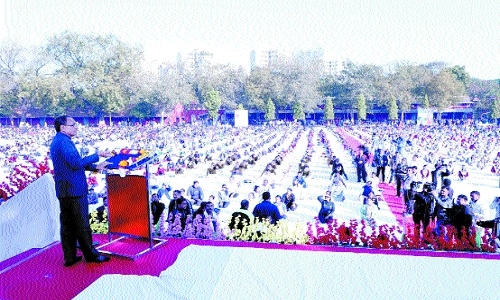 Staff Reporter
Chief Minister Shivraj Singh Chouhan addressed the students participating in the mass Surya Namaskar performed at the ground of 15th Battalion of Special Armed Force in Indore. Chief Minister said that Swami Vivekananda used to say that one becomes what one thinks and does. That's why students should consider themselves strong and not weak, only then will they become strong. CM Chouhan advised the students to perform Surya Namaskar regularly. Surya Namaskar includes all types of asanas.
Chouhan said that by practising Surya Namaskar and yoga, our mind also remains healthy along with our body. All works are not possible by the lines of the palm but by the sweat of the forehead, he added. He said that we achieve what we resolve to do. As the people of Indore took a firm resolve, they made Indore the cleanest city in the country, people from abroad are coming today to see this.
Chouhan said that he has also decided to make Madhya Pradesh the most developed state of the country, so he will be certainly achieve this. Water Resources Minister Tulsiram Silavat, Member of Parliament Shankar Lalwani, Rajya Sabha MP Kavita Patidar, Chairman of Indore Development Authority Jaipal Singh Chavda, former MLA Sudarshan Gupta and former Chairman of Indore Development Authority Madhu Verma, Collector T Ilaya Raja were also present along with other public representatives, officers and students.