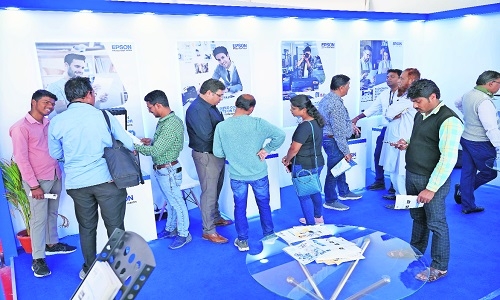 Business Bureau
The 29th edition of Comp-Ex, going on at Reshimbagh Ground in the city, is witnessing a huge rush of IT enthusiasts as they missed the much-awaited expo on past two occasions because of the pandemic.
The various stalls and pavilions of reputed brands, products and services on offer at Comp-Ex is a sure recipe to meet the unsatiated demands of the IT sector individuals. One can stroll at Comp-Ex to check out the products and services which are available at the most reasonable and attractive price range to meet their needs today or may what one may need in future. The one vital and important service offered by Evertop Computers and Netcom Systems at Comp-Ex is the Data Recovery. There are many possibilities and malfunction of the hardware that causes loss of data from PCs, laptops, mobiles and can be effectively retrieved.
Under the CSR initiative of VCMDWA, the Comp-Ex platform has been offered to IIM, Nagpur of their IIMN Foundation for Entrepreneurship Development (InFED), the business incubator of IIM Nagpur. InFED with significant players at the local, state, federal and international levels to build an ecosystem that supports entrepreneurs and related parties. It serves as a link between aspiring business owners, academics, research organisations, companies, investors and the Government.
The pavilion of Metro Rail has an interactive team that is showcasing the present metro infrastructure presented to the Nagpurians and also the future plans of expansion.
Besides the international and national giants, the other participants, to name a few, who have their wares on display are Hi Tech Communication & Security Systems, Videe Com, Nortan Antivirus, Fudugo Traders, Softsense Technoserve (I) Pvt. Ltd. Securus CCTV, JAK Infosolutions, Krishnam Computers, Evertop Computer, ICIS Computers India Pvt. Ltd., Powertronix Systems, Copy Pro Technologies Pvt. Ltd., Master Computer. VCMDWA has been backed by the Government of Maharashtra and Maharashtra Metro Rail Corporation while The Hitavada is the Media partner who are extending their invaluable support to the expo.
The VCMDWA team at the helm of organising this mega extravaganza comprises of Vinay Dharmadhikari, President, Dinesh Naidu, Vice President, Lalit Gandhi, Secretary, Prashant Bulbule, Treasurer, Ranjit Umathe, Joint Secretary, Executive Members Sanjay Chaurasia, Rohit Jaiswal and Shahzad Akhtar.