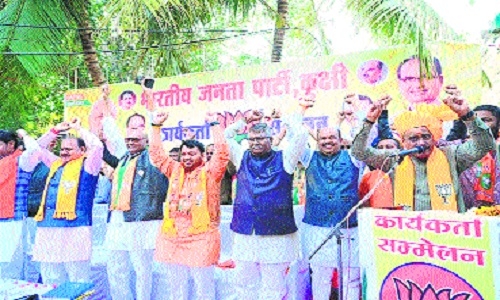 Staff Reporter
State President of Bharatiya Janata Party and MP Vishnudutt Sharma addressing the workers' conference during an election campaign of Dahi Municipal Council of Dhar district on Sunday said that Congress ruled the country and Madhya Pradesh for a long time, but they did not give any thought to the development of the country, the State and to change the lives of the poor.
Sharma said that Congress has done the work of depriving the rights of the people and filling their pockets and in the BJP government, the citizens of Dahi Nagar are getting water from Narmada Maa at their homes. Asking Congress he said, "What did you do for the benefit of the poor? Why did the Congress not solve the problems of the poor?
Sharma also campaigned in support of the corporator post party candidates in Kukshi and Dharampuri by addressing the worker's conference. He said that the aim of the parties running on the basis of dynasty is not public service but family service.
Sharma said that Bharatiya Janata Party is worker-based party, where every worker discharges his responsibility with full dedication. There is no political party except BJP which is worker based, all parties are running on the basis of dynasty. The aim of those parties is not public service, but family service.
He said that decisions are taken in BJP on the basis of collective leadership and our workers at every booth give final shape to the organisation works. The respect of the workers is paramount for us, due to the dedication of these workers, the BJP wins the elections with historic votes.
The youth took the membership of BJP in presence of V D Sharma: Impressed by the customs and policies of the Bharatiya Janata Party government, a large number of local youth joined the BJP in front of State President Vishnudutt Sharma during the worker's conference at Kukshi in Dhar district. Sharma welcomed the youth to the party by offering them a scarf. Party's State General Secretary and Divisional In-charge Bhagwandas Sabnani, State Secretary Jaideep Patel, State Spokesperson and MP Dr Sumer Singh Solanki, National General Secretary of Scheduled Tribe Morcha Dr Gajendra Patel, Mukamsingh Kirade and party office-bearers and workers were present on this occasion.