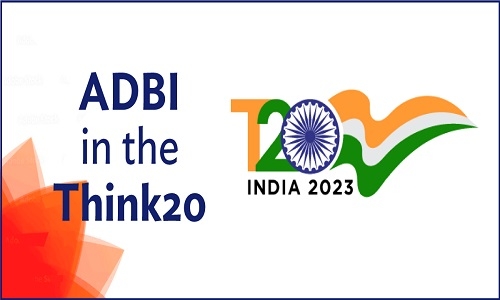 Bhavana 'Aparajita' Shukla
After successfully accomplishing Centre government's flagship programme Pravasi Bharatiya Diwas Sammelan this year, Now, Shivraj Singh government is ready to take up another venture of international repute namely a meeting of G-20 under the India's G-20 Presidency programme.
Now, on ground the preparations will be taken off with the two-day 'Think-20' meeting at the Kushabhau Thakre International Convention Centre in Bhopal from Monday. During which experts and foreign guests will discuss various topics including the 'Environment-friendly lifestyle-ethical values and global good governance,' concerned official informed. After the meeting, participants will visit a few tourist places near to the state capital including Sanchi Stupa as the site holds international significance being one of the primary Buddhist sites and belongs in the list of UNESCO World Heritage.
Chief Minister Shivraj Singh Chouhan on Saturday evening reviewed preparations for the meeting, which will be attended by 94 representatives from 22 countries, besides intellectuals and officials from India. The main speaker at the inaugural session will be Tetsushi Sonobe, Dean and CEO of the Asian Development Bank Institute, Tokyo. Other speakers during the inaugural session will be Indonesia's Deputy Minister for Political Affairs, Law, Defence and Security Slamet Soedarsono, Chief Co-ordinator for India's G20 Presidency Harsh Vardhan Shringla, NITI Aayog Vice-Chairperson, Suman Bery.
CM Chouhan will attend the inaugural function of the event. The session will also be addressed by Research and Information System for Developing Countries (RIS) Director General Sachin Chaturvedi and Manohar Parrikar Institute for Defence Studies and Analyses Director General Sujan Chinoy. On January 17, there will be two plenary sessions, a round table meeting and a valedictory session with the concluding speech of Governor Mangubhai Patel.
There will also be 10 parallel sessions on the first day on various topics including institutional framework, investing in children as investment in future, financing resilient cities and societies, economic systems transformation and one health wellness and traditional medicine.
The State Government has constituted a committee of top officials to look after the hospitality and security for two conferences of G-20 countries to be held in Indore and Bhopal, according to the official concern. The committee, headed by the chief secretary, will look after crucial arrangements of the international participants during the two conferences of G-20 countries. The committee includes additional chief secretaries of the general administration and home departments, besides other senior officials. The principal secretary of the tourism department will be the secretary and nodal officer of this committee, it was stated. India assumed the presidency of the G20, an intergovernmental forum of the world's major developed and developing economies, on December 1 and would be hosting several meetings nationwide over the next one year. The G20 comprises Argentina, Australia, Brazil, Canada, China, France, Germany, India, Indonesia, Italy, Japan, the Republic of Korea, Mexico, Russia, Saudi Arabia, South Africa, Turkey, the United Kingdom, the United States and the European Union.