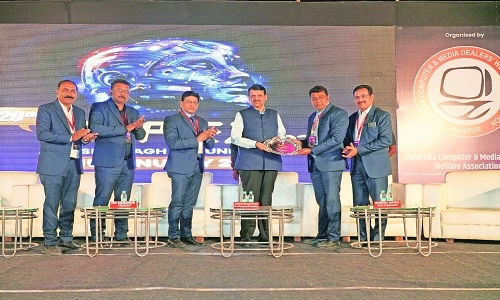 Business Bureau
Addressing the gathering on the concluding day of the four-day Comp-Ex on Sunday, Deputy Chief Minister Devendra Fadnavis said, "We are living in data driven world and data is the future wealth of India".
Fadnavis also appreciated the attempt, efforts and concept of Comp-Ex to showcase computer capabilities and making people abreast of the newer and emerging technology. Fadnavis said, "In the fast digital world the technology disruption is very fast and better versions over take the previous ones faster than one can imagine".
On the newly inaugurated first leg of the Samruddhi Mahamarg, Fadnavis said that the highway is being planned to transform as the smartest highway in order to have an accident free road. He also envisaged Nagpur, due to its central location and disappearance of State barriers post GST, to become the logistic capital of India. On his arrival at Comp-Ex Fadnavis was welcomed with a floral bouquet by Vinay Dharmadhikari, President VCMDWA while Dinesh Naidu, Vice President presented him with a momento on behalf of VCMDWA.
Being a weekend and the day also coinciding with Makar Sankrant, the last day of Comp-Ex 2023, experienced a heavy rush. The Comp-Ex organizing committee outreach camaraderie towards its fellow members and their families was a Sunday breakfast morning at the Comp-Ex venue. As the day was also of Makar Sankrant festival, Comp-Ex members celebrated the festival with participating vendors and distributed 'til-gud' amongst them.
The Comp-Ex organising team of VCMDWA Vinay Dharmadhikari, President, Dinesh Naidu, Vice President, Lalit Gandhi, Secretary, Prashant Bulbule, Treasurer, Ranjit Umathe, Joint Secretary and Executive Body Members Sanjay Chourasia, Rohit Jaiswal and Shahzad Akhtar strived hard to put together a highly successful, hugely attended expo this 2023.
Dharmadhikari expressed gratitude towards the Maharashtra Government, Maharashtra Metro Rail Corporation Ltd., all Comp-Ex participant partners, all the participating companies and the visitors who turned out in large numbers that actually helped Comp-Ex 2023 to attain newer milestones of success. The notable support to Comp-Ex 2023 was extended by The Hitavada as well as all other media support and service partners.