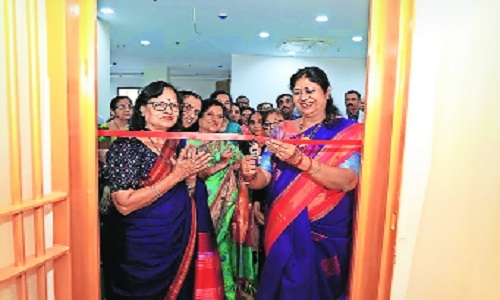 Business Bureau
The Dharampeth Mahila Multi State Co-operative Society Limited, Nagpur recently conducted a ceremony to hand over the keys of 'golden lockers' in its Shivaji Nagar branch to the members. Nilima Bawane, Chairperson of the society, and Sarika Pendse, Vice Chairperson, gave the keys to the members including Shivkumar Banger, Vandana Sapate, Shantabai Mogre, Joytsna Kalmbe and Sushma Dighre. On the occasion, Bawane spoke about various initiatives of the society and said that the society has been offering loan to needy women.
Pendse spoke about the 'golden locker' scheme. The society has created a special type of the lockers for its members equipped with some unique feature. "These lockers have lights inside it for the convenience of the users. We are proud of this unique feature," she said.
Chief Advisor Kishor Bawane; Management Advisor Prataprai Hirani; Director Anagha Mule; Vaishali Zade, Chief Manager Chandrashekhar Wasule and others were present. Mrunal Pillewan conducted the proceedings of the function while Director Anjali Raut proposed the formal vote of thanks, says a press release.