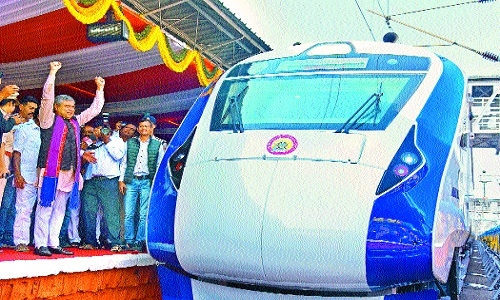 HYDERABAD,
PRIME Minister Narendra Modi on Sunday virtually flagged-off the Vande Bharat train service between Secunderabad in Telangana and the port city of Visakhapatnam in Andhra Pradesh on the auspicious occasion of Makar Sankranti.
As the event coincided with the Army Day, the Prime Minister paid rich tributes to the serving and retired personnel. "Vande Bharat is a true replica of India which is coming out of the mentality of dependence and moving towards Atmanirbharta (self-reliance)," the PM said before flagging off the train. Noting that the new trains will connect the culture of Telangana and AP, Modi said Vande Bharat symbolises new India's resolution and capabilities.
"Vande Bharat is a symbol of New India's capability and resolve. It is a symbol of that India which has chosen the path of rapid development," the Prime Minister said.
PM Modi to hold grand roadshow in Delhi today: Bharatiya Janata Party (BJP) will hold a grand roadshow of Prime Minister Narendra Modi on Monday in Delhi. The two-day BJP national executive meeting will be held at NDMC Convention Centre in the national capital on January 16-17.