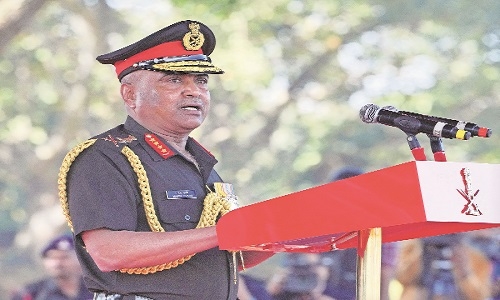 BENGALURU,
THE Indian Army is maintaining a strong defence posture along the Line of Actual Control (LAC), and is ready to deal with any contingency, Chief of Army Staff, General Manoj Pande said on Sunday.
In his address at the Army Day celebrations here, which is happening for the first time outside the national capital, he said the northern border region has been peaceful and steps have been taken to maintain peace through established protocol and existing mechanism.
Referring to the situation along the western border, the Army chief said, "The ceasefire continues at LoC and there has been a substantial reduction in violations. However, the terror infrastructure still remains on other side of border. Our counter insurgency mechanism is effectively foiling the infiltration bid from Pakistan.". Pointing to the attempts to smuggle arms and drugs into Jammu and Punjab border regions using drones, General Pande said counter drone jammers were being used against such activities. The Indian Army with other security forces is committed to foiling these attempts, he told the gathering.
"Our focuses are also on building goodwill and carry out developmental projects through which we can bring the local population into the mainstream. As part of it, the influential youth are being given opportunities to fulfill their dreams in their profession field of their choice and sports," General Pande said. Alluding to the security situation in the North East, he said there is improvement in the situation.
The Army has played a significant role in minimising violence. Many insurgent groups have entered into peace agreement with the Government or dialogues in that direction are underway.