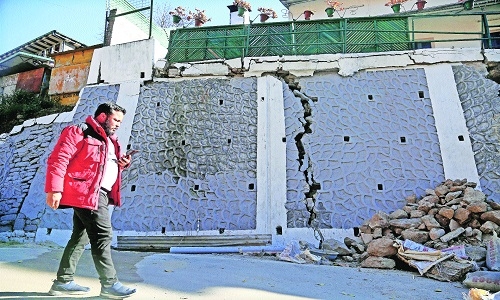 DEHRADUN/JOSHIMATH,
TWO more hotels were dangerously leaning towards each other while wider cracks appeared near Auli ropeway and in other areas of land subsidence-hit Joshimath on Sunday. The number of houses that have developed cracks has now risen to 826 out of which 165 are in the "unsafe zone", a bulletin from the Disaster Management Authority said. So far 233 families have been shifted to temporary relief centres.
The process of demolishing two adjacent hotels Malari Inn and Mount View which were declared unsafe was still underway. Around 100 metres from the site, two more hotels - Snow Crest and Comet - have tilted dangerously towards each other and have been vacated as a precautionary measure.
"The gap between the two hotels was around four feet earlier but now it has narrowed to just a few inches with their roofs nearly touching each other," Puja Prajapati, daughter of Snow Crest owner, said. Wider cracks have appeared near the Joshimath-Auli ropeway whose operation was suspended over a week ago when land subsidence aggravated. The 4.5 km ropeway, considered one of Asia's largest, connects Joshimath located at 6000 ft with the skiing destination of Auli at an altitude of 9000 feet. A crack around four inches wide and 20 feet long has appeared near the walls in the ropeway premises, ropeway engineer Dinesh Bhatt said.
A hotel owner in Singdhar ward said the cracks in the area widened on Saturday night.
The flow of water increased from a suspected underground channel burst in JP Colony in the Marwari area of the town after a temporary decline a couple of days back. Muddy water has been percolating down from it constantly since January 2 but experts are not sure about its origins. Disaster Management Secretary Ranjit Kumar Sinha said a constant vigil is being maintained on the pace of water percolation in the area which has been fluctuating.