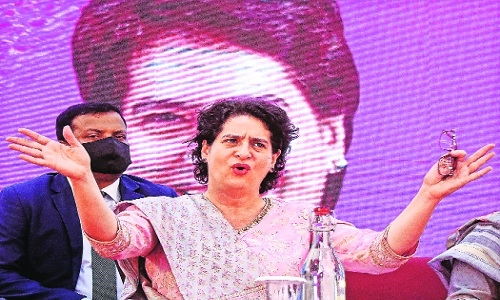 BENGALURU,
THE Congress in Karnataka on Monday promised Rs 2,000 a month to every woman head of households if the party is voted to power in the State.
The announcement was made at a "Na Nayaki" (I am a leader) convention attended by Congress leader Priyanka Gandhi Vadra, who said Rs 24,000 a year would be directly credited to their bank accounts under "Gruha Lakshmi Yojana", an "unconditional universal basic income." The promise comes within days of the Congress making an announcement to provide 200 units of free power every month to each household in the State, where Assembly elections are due by May.
'Gruha Lakshmi Yojana' is the attempt of the Congress party to share the "burden of the exorbitant" LPG prices and the "costly daily expenses" that a woman has to bear, the party said. More than 1.5 crore women would benefit from this scheme, the party said. "Today, I am announcing the Gruha Lakshmi Scheme. In
this scheme, each head of a family who is a woman, will get Rs 2,000 per month. That means Rs 24,000 will go directly into your account in a year. This is part of the bigger scheme of 'Na Nayaki', she said.