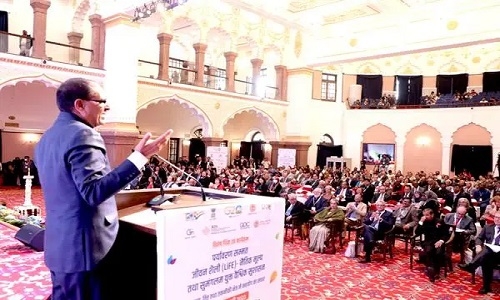 By Bhavana 'Aparajita Shukla
BHOPAL, Jan 16
Over a month after India assumed the G20 presidency, the two-day Think-20 meeting has began at Kushabhau Thakre International Convention Centre in Bhopal on Monday.
Addressing the inaugural session, Chief Minister Shivraj Singh Chouhan said that scholars and experts have congregated at Bhopal to deliberate over environmental issues. It seems that now Bhopal has become the capital of intellectuals. "I welcomed all of you from the bottom of my heart. We have to think about ways to explore nature rather than exploiting it," Chouhan said.
Reiterating Prime Minister Narendra Modi's quote, he said that the G20 India Presidency will be inclusive, action-oriented and decisive. The theme unveiled by the Prime Minister: 'One Earth, One Family, One Future' enunciates India's philosophy of 'Vasudhaiva Kutumbakam', CM has urged the think tanks of the international forum that we have to conserve and protect nature. Natural resources have been ravaged to fulfill our demands.
Nations have exploited it to a greater extent. We all are responsible for this. Developed nations have exploited it unprecedentedly to add on materialist treasure. There is a need to think about exploration not to exploit. There is a big difference between the two. To fulfill need from nature is an exploration, but to fulfill unbridled ambition of progress pushing natural resources at the edge is exploitation. "Picking fruit is exploration but to chop down tree is exploitation." Consequently Climate Change and Global Warming have been emerged as a big challenge before the world. "MP Government takes water issues very consciously and seriously. We have launched a mega campaign to save water. around 4.50 lakh water bodies have been developed across the State. It will not only promote water recharging but also curb its wastage," he added.
Informing about the event, Director General of Research and Information System for Developing Countries (RIS) Sachin Chaturvedi, told 'The Hitavada' that in this two-day meet, experts and scholars have discussed 'environment-friendly lifestyle-ethical values and global good governance. Scholars will deliberate over Global Governance with Life values and well being. How it can be achieved through fostering co-operation in framework, finance and technology. 94 representatives from 22 countries are participating in this event.On January 17, there will be two plenary sessions, a round table meeting and a valedictory session with the concluding speech of Madhya Pradesh Governor Mangubhai Patel.