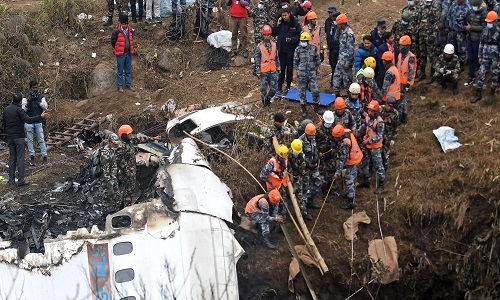 By Shirish B Pradhan
KATHMANDU,
ALL 72 PEOPLE, including five Indian passengers, on board the crashed Yeti Airlines aircraft are believed to be dead as rescue workers made little progress in finding any survivors even as they recovered one more body and the black box from the accident site, officials said on Monday.
Officials said 41 bodies out of 69 recovered so far have been identified as Nepal observed a national day of mourning on Monday. Both the cockpit voice recorder and flight data recorder have been recovered as search and rescue teams rappelled down a 300-metre gorge to continue their efforts, which were suspended overnight.
The Cockpit Voice Recorder (CVR) records radio transmissions and other sounds in the cockpit, such as conversations between the pilots, and engine noises. The flight data recorder (FDR) records more than 80 different types of information such as speed, altitude and direction, as well as pilot actions and performance of important systems.
According to airport officials, the boxes were recovered from the site of the accident, a day after Yeti Airlines' 9N-ANC ATR-72 aircraft crashed on the bank of the Seti River between the old airport and the new airport minutes before landing. The boxes could offer vital clues about Sunday's crash - Nepal's deadliest aviation accident in over 30 years.