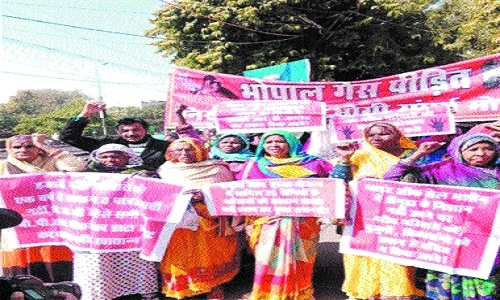 Staff Reporter
Victims of Bhopal gas tragedy along with kins demonstrated outside the Collectorate on Tuesday over the problem being faced by them in getting ration. They have been suffering for this problem from past several months. Despite moving from pillar to post and complaining officials concerned, they are not getting their quota of ration. At the same time, there is also a problem regarding the server and eligibility letter.
On Tuesday afternoon, on the call of 'Pension Bhogi Sangharsh Morcha', a large number of gas victims and destitute pensioner women demonstrated outside the Collectorate carrying BPL card and food grains eligibility slips. The organisation's president Balkrishna Namdev alleged that the officials of the Food Department are adopting a negative attitude towards the problems of poor families.
He added that even after the names appearing in the BPL list and the verification of all the members registered in the 'Samagra ID' at the Ward Office of the civic body, the names of all the family members are not coming in the ration eligibility slip. The verification of the eligibility slip is done by the municipal corporation on the basis of BPL survey. After recording the conduct of all the family members, the eligibility slip is recommended by the local body to the DSO/JSO. After this it is done to NIC. The department takes more than a year to complete this process. Due to which poor families do not get the benefit of National Food Security Act.
More than 40k beneficiaries in Bhopal: The organisation's president Namdev said that the Madhya Pradesh Government had announced two years ago that all 25 categories of poor families registered in the National Food Security Act would be given ration by issuing food grains eligibility slips. Beneficiaries of old age pension, social security pension are also included in the priority eligible category. Whose number is more than 40,000 in Bhopal, but till date the food grain eligibility slip has not been provided by the district administration. Due to which the poor pensioners are deprived of the benefits of food grains.