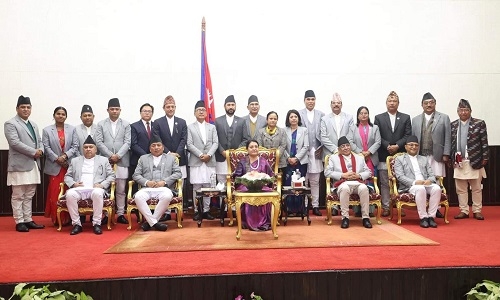 KATHMANDU,
NEPAL Prime Minister Pushpakamal Dahal "Prachanda" on Tuesday expanded his eight-member Cabinet to 23 with the induction of 12 Ministers and three Ministers of State, including six women Ministers.
Prachanda, the 68-year-old CPN-Maoist Centre leader was sworn in as the Nepal Prime Minister on December 25 last year, for the third time after he dramatically walked out of the pre-poll alliance led by the Nepali Congress and joined hands with Opposition leader K P Sharma Oli. The new Ministers include Deputy Prime Minister and Minister for Energy Rajendra Lingden, Minister for Foreign Affairs Bimala Rai Poudyal, Minister for Communication and Information Technology Rekha Sharma, Minister for Tourism and Civil Aviation Sudan Kirati, Minister for Industry and Commerce Damodar Bhandari, and Minister for Health Toshima Karki among others.
Prachanda has also inducted six women ministers -- Rekha Sharma for Communication (Maoist Centre), Jwala Kumari Shah as the Agriculture Minister (UML), Bimala Rai Poudyal for Foreign Affairs (UML), Bhagwati Chaudhary, the Minister for Women (UML), Sushila Adhikari as the State Minister for Tourism (Maoist Centre), and Toshima Karki as State Minister for Health -- in his 23 member Cabinet. For the first time in Nepal's history, women received a 26 per cent share in the Cabinet. The Communist Party of Nepal (Unified Marxist–Leninist) (CPN-UML) got eight ministers, CPN-Maoist Centre has got 4 ministers and one minister of state besides the Prime Minister.