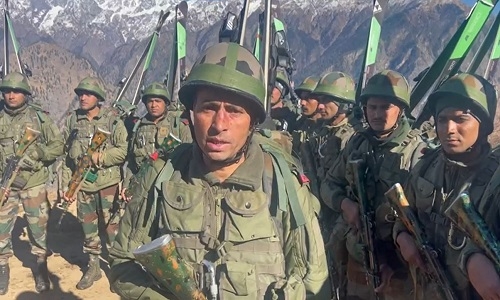 CHAMOLI,
INDIAN Army troops deployed in the high-altitude mountains near the China border in Uttarakhand say that they are ready for both special missions as well as for relief and rescue operations in Joshimath which has been affected by land subsidence. The soldiers while exuding confidence in successfully executing all the operations or missions said that they are up to any task assigned to them. The troops are training in case they are called upon for the operations to help out the civil administration.
Soldiers deployed in high altitude locations around 14,000 feet in the Uttarakhand sector along the Line of Actual Control are carrying out multiple roles. "Indian Army is up to any job assigned to it, be it a natural calamity or any special mission. Our one troop is training for the Joshimath disaster. The troop will be prepared to contribute in the operation," a soldier said.
"Indian Army executes numerous operations," another soldier said. While on the one hand, the soldiers are preparing for mountain warfare along the border, they are also fully prepared to provide support to the local administration in Joshimath in disaster relief operations due to the cracks developed there in the land subsidence cases.
Meanwhile, the Uttarakhand Government has distributed an amount of Rs 2.85 crore to 190 families affected by land subsidence as advance for displacement, said Disaster Management Secretary Ranjit Kumar Sinha on Monday.
MeT predicts rain, snowfall in Joshimath: THE coming four days will be very tough for the residents of Joshimath in Uttarakhand which is already going through land subsidence rendering people homeless.
Adding to the woes of the people, the meteorological department has predicted rain and snowfall in Joshimath.