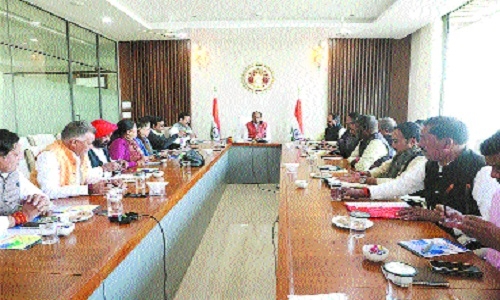 By Bhavana 'Aparajita'
Shukla
Rejuvenated after the recently concluded marathon meeting of the ruling BJP's executive committee in New Delhi, the Chief Minister Shivraj Singh Chouhan will embark upon another yatra named as Vikas Yatra.
The 15-day February 1-15 yatra will not only showcase flagship developmental schemes initiated by Prime Minister Narendra Modi and the programmes launched by Chief Minister himself in the State, but will also pinpoint those programmes which came to grinding halt during short tenure of Kamal Nath-led previous Congress government.
Prior to Yatra, the Chief Minister had called a meeting of all his Cabinet colleagues at his residence on Wednesday and asked them to actively participate in the yatra and showcase development schemes, programmes and activities running Madhya Pradesh. The yatra will have several fragments; local leaders will organise such Vikas Yatras in their respective constituencies, towns and even villages to make voters aware of what the government is doing for their welfare. Each fragment of the Vikas Yatra will be given a unique name, code number. With the advice of the minister in-charge, the collector will decide who will be the chief guest on each rally of yatra or at foundation stone laying ceremony or even who will distribute benefit certificates to beneficiaries.
The district collectors will finalise the routes of the Vikas Yatras when it will pass through rural and urban areas of each district after consulting the minister in-charge of the district. The yatra will make Chouhan's live connect with the masses warm and also provide political feedback. With the Vikas Yatra Chouhan will try to paint a larger canvass before assembly elections scheduled to be held during November-December 2023.
This is not the first time Chouhan is embarking on any yatra. During 14 years of his tenure except for recess of 15 months of Kamal Nath government, Chouhan had organised several yatras. Even during the period of 2016 to 2017 he organised Jan Vishwas Yatra, Narmada Seva Yatra, Madhya Pradesh Vikas Yatra, Adivasi Vikas Yatra and Kisan Sandesh Yatra besides yatras like Gaurav Yatra, Jan Ashirwad Yatra and Kisan Sandesh Yatra.
The last yatra which he had organised was Jan Ashirwad yatra before contesting 2018 assembly elections.
Chouhan now holds the distinction of being the longest serving chief minister. He had outsmarted Congress heavyweights like Shyama Charan Shukla, D P Misra, Arjun Singh and Digvijay Singh. Unlike previous occasions Chouhan has not even picked any specific auspicious date of this season of Vikas Yatra. Earlier, he had an advisory team of priests who would advise him to choose any specific auspicious date. Each trip will have a different name and code number
The Yatra will include:
1. Dissemination of Central Government schemes and development programmes of State Government
2. Foundation stone-laying ceremonies, inauguration of necessary development works in villages and wards.
3. Innovative initiatives taken by citizens, farmers, laborers, students, women, self-help groups in various fields in villages and cities and their success stories will be discussed.
4. Information about future development strategies
5. Members of self-help groups, members of crisis management groups, members of gram sabhas, representatives of project management committees under Jal Jeevan Mission, other various members of the committees etc. will remain present.
6. Suggestions for improving the arrangements and improving the infrastructure like Health Center, Anganwadi, School, Ration Shop, Gram Panchayat Office, Police Station, Veterinary Hospital, Cooperative Credit Society etc. will be taken Complete information related to Vikas Yatra will be recorded through the CM Helpline portal. A separate module has been prepared in the portal and login has been done for the officers. While the Opposition lashed out at the Government, making accusations of attempting to fool the people of the State by holding review meetings on development with an eye on assembly elections at the end of the year. In 2018, the ruling BJP in Madhya Pradesh took out a road show named Kisan Samman Yatra to woo the farming community, the largest group of voters in a state that has witnessed deadly protests by farmers over dwindling income
and rising debts.