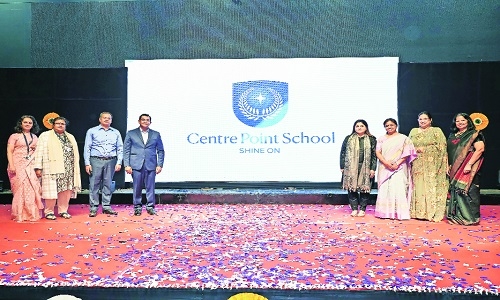 Business Bureau
CENTRE Point Group of Schools, Nagpur's leading K12 school network gears up to reinforce its commitment towards enabling its students to succeed in a dynamic tomorrow with a refreshed new visual identity.
Centre Point Schools (CPS) believe that every child has the potential to be a star, ready to shine. The school is a powerful enabler in harnessing this potential. With its new identity, the school also unveiled the motto of 'SHINE ON'.
With this transformation, Centre Point Schools are leaping forward to offer contemporary learning experiences, stronger integration of technology with learning, and the upgradation of our school amenities including the sports facilities, modernisation of their libraries, set up of a new auditorium, laboratories, and more - all directed at enabling their students to 'SHINE ON'.
A part of the Lighthouse Learning Group, Centre Point was founded in 1979, when it launched its first Mother's Pet pre-school. It launched its K-12 Centre Point Schools in 1988 and added an international school affiliated with the Cambridge International Board in 2018.
Today, they operate four K-12 institutions in Nagpur. The K-12 schools have consistently achieved outstanding results in the CBSE Board examinations and have been proud recipients of the 'International School Award' by the British Council.
Rahul Deshpande, CEO, K12 Schools, Lighthouse Learning, said, "Three decades ago, Centre Point Schools embarked on a journey to spread the joy quotient in the city of Nagpur. Over the years, our students and alumni have become shining stars across diverse fields and contributors to the community and society at large. Education has the power to give children a sense of direction, provide exposure, and help them to chart a roadmap for their life. The refresh in our visual identity and new motto is a leap towards offering contemporary learning experiences, upgradation of school amenities including the sports facilities, libraries, auditorium, etc., along with several opportunities for teacher training and empowerment – all directed at enabling our students to 'SHINE ON'."
Shilpee Ganguly, Director Principal, Centre Point Schools said, "Centre Point Schools have been celebrated as Nagpur's best K12 schools for decades. We have endeavoured to enable our students to learn and grow in an environment of freedom, motivation, acceptance, and appreciation, which helps them tap into their full potential and achieve all-around excellence. The release of our new visual identity marks a significant milestone and illustrates our purpose and vision for the future."