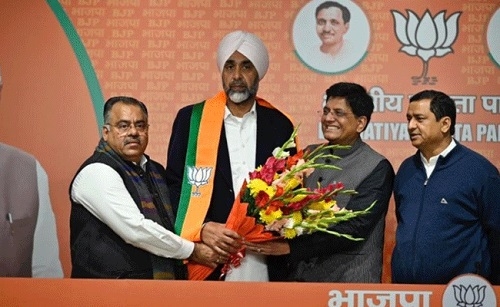 NEW DELHI/CHANDIGARH,
FORMER Punjab Finance Minister Manpreet Singh Badal joined the BJP Wednesday and slammed the Congress, which he quit before starting his new political innings, for factionalism. The Congress took a swipe at the former Punjab Finance Minister, saying "clouds (badal) over the Punjab Congress have cleared". The five-time MLA lauded the BJP and PM Modi's leadership, saying India has emerged strong, including diplomatically and economically, under their nearly nine-year rule. Voicing concern over the state of affairs in Punjab, he said the State is "slipping" and the BJP is the only party which can meet the challenges facing it.
On his decision to quit the Congress, he said how can one operate in a party which is at 'war with itself'. 'Not only in Punjab but in many states, the party is full of factions,' Badal said. In his resignation letter to Congress leader Rahul Gandhi, Badal claimed that far from being acknowledged or appreciated for his efforts to garner funds for the state exchequer, he was 'vilified' in the Punjab Congress 'for failing to display what can only be described as fiscal recklessness'.