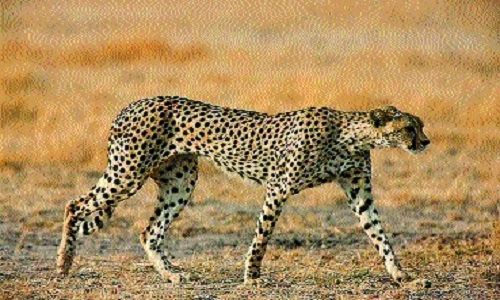 Staff Reporter
Madhya Pradesh's Kuno National Park is all set to welcome 12 cheetahs from South Africa on Republic Day.
All preparations to shift the cheetahs has been done at Kuno. After translocating the cat in Kuno, they will be released into special enclosure. From February, tourists will be allowed to watch the cheetah. These 12 cheetahs have been quarantined in Africa for past three and half months. After shifting these 12 cheetahs, Kuno will have 20 cheetahs in its periphery.
From February onwards, tourists will be allowed to watch cheetahs imported from Namibia. The sanctuary has planned to release all eight cheetahs in 500 hectare of enclosure in the end week of January 2023. Officials claimed that all spotted cats are healthy and they are killing prey independently. Forest Department is also training Sahariya tribal families for home stay under its cheetah tourism development plan. They are being trained to maintain hygiene and cook food for foreigners. Their houses are being repaired. National Rural Livelihood Mission (NRLM) and Ecotourism Board have jointly selected ten Sahariya houses for the training out of that four families are completely trained. Remaining six families are being trained.
Forest officials said that rules for Cheetah Safari will be similar to that of Tiger Safari and tourist will be asked for online booking. There will be two shifts morning and evening safari. There are here zones in Kuno including Tiktoli, Pila-Wavadi and Ahera. Cheetahs are enclosed in Tiktoli zone. However Tiktoli zone is closed for tourism for last season in order to secure the cat. As track and roads are old in the zone, officials have started repairing work. All the three zones have 180 km of track while Tiktoli zone has 80 km of track. Talking to 'The Hitavada' District Forest Officer Prakash Verma said, "We have no final order to start cheetah tourism but preparation is being done. A total of 60 guides are being trained to speak in English language." He further informed that normally, cheetah forms territory in 50 to 100 sqkm of area so preparation are being held accordingly. Cheetahs were brought to Kuno from Namibia during September 2022. There are five male and three female cats and all are healthy. All cats are shifted to the enclosure were they are killing prey independently.