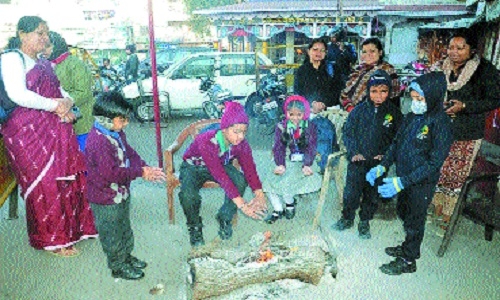 Staff Reporter
Madhya Pradesh is shivering with severe cold conditions for three days. Weather Department has forecast relief after January 21. Officials of Meteorology Department said that there are chances of light rain in Gwalior and Chambal region on January 22 and 23. Other region of State will also be witnessing clouds. Officials said that third wave of severe cold would be there in State from January 23.
Coldest city in State remained Datia where minimum temperature was recorded as 2.2 degrees Celsius on Tuesday. Gwalior recorded minimum temperature as 2.3 degrees Celsius. State capital Bhopal recorded coldest night of this season in past 23 years. It was cold day in Indore on Tuesday. 47 districts of state have temperature below 10 degree Celsius. Umaria, Chambal, Ratlam, Rajgarh, Rewa, Satna, Sagar, Chattarpur, Tikamgarh, Niwari, Gwalior and Datia recorded cold wave. Minimum temperature in Gwalior was recorded as 2.3 degrees Celsius, Jabalpur 5.7 degrees Celsius, Bhopal 7.2 degrees Celsius and Indore 8.6 degrees Celsius. This year in January only one day (January 13) night temperature in Bhopal went above 11 degrees. In past 23 years for the first time 16 days in January recorded temperature below ten degree. Weather Department has said that on January 26 temperature will be severe cold.
Lowest minimum temperature was recorded at 2 degrees Celsius in Gwalior and Datia (2.2 degrees). On Thursday, minimum and maximum temperature in Bhopal would be around 7 degree Celsius and 21 degree Celsius.