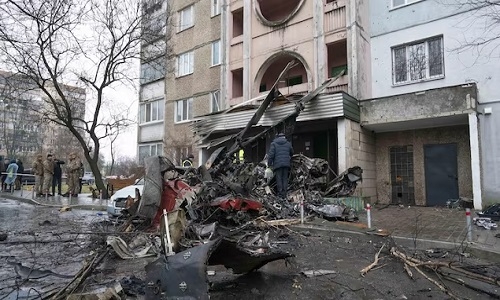 BROVARY,
UKRAINE'S Interior Minister died on Wednesday in a helicopter crash near the capital that killed at least another 14 people, including other officials and three children, authorities said. Interior Minister Denys Monastyrskyi, who oversaw Ukraine's police and emergency services, is the most senior official to die since Russia invaded nearly 11 months ago.
His death, along with two others from his ministry, was the second calamity in four days to clobber Ukraine, after a Russian missile strike on an apartment building killed dozens of civilians. There was no immediate word on whether the crash, which was near a kindergarten, was an accident or related to the war.
No fighting has been reported recently in Kyiv area. Ukrainian President Volodymyr Zelenskyy said that the crash was "a terrible tragedy" on a "black morning". "The pain is unspeakable," he wrote on Telegram.
Nine of those killed were aboard the chopper when it crashed in Brovary, an eastern suburb of the Ukrainian capital, Ihor Klymenko said. The others who died were apparently on the ground. However, Kyiv Regional Governor Oleksii Kuleba said, 18 people overall were killed, including three children, and that 25 were injured.