WFI President sexually exploited women wrestlers, I have received death threats: Vinesh Phogat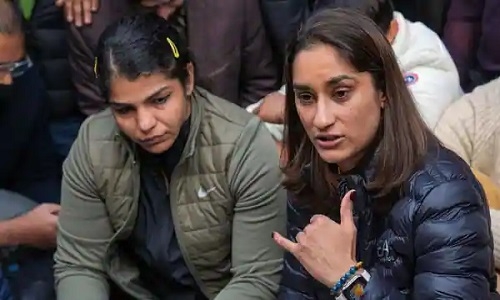 NEW DELHI,
IN A startling revelation, a crying Vinesh Phogat on Wednesday alleged that Wresting Federation of India (WFI) President Brij Bhushan Sharan Singh has been sexually exploiting women wrestlers for many years, a charge vehemently rejected by the sports administrator and BJP MP.
Vinesh, who has been at loggerheads with WFI since the Tokyo Olympic Games, also claimed that several coaches at the national camp in Lucknow have also exploited women wrestlers, adding that there are a few women at the camp who approach wrestlers at the behest of the WFI President. The 28-year-old though clarified that she herself never faced such exploitation but claimed that "one victim" was present at the 'dharna' they began at Jantar Mantar on Wednesday. Vinesh also claimed that she had received death threats at the behest of WFI President from officials close to him because she dared to draw Prime Minister Narendra Modi's attention to several issues plaguing Indian wrestling when she met him after the Tokyo Games.
"I know at least 10-20 women wrestlers who have told me about the sexual exploitation they faced at the hands of (the) WFI President. They told me their stories. I can't take their names now but I can definitely reveal the names if we get to meet the Prime Minister and the Home Minister of the country," Vinesh said addressing the media after staging a four-hour dharna at Jantar Mantar. "I have received death threats from people who are close to the WFI President. If anything happens to any of us sitting here, only the WFI President will be responsible."
The WFI President said, "an industrialist is behind this conspiracy against me. Why Vinesh did not approach police if she received death threats".